Tue., Jan. 8, 2013
Idaho teacher workforce OPE report: 'Strong undercurrent of despair'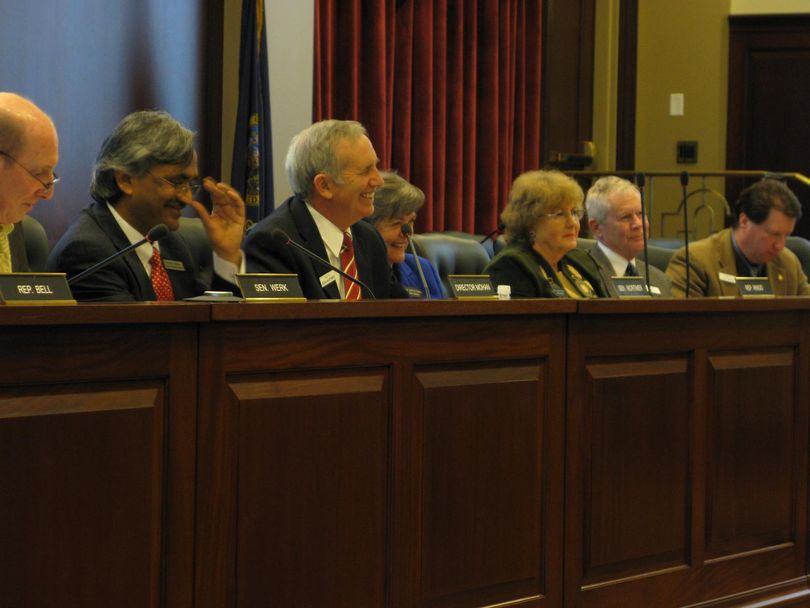 The Joint Legislative Oversight Committee is meeting this afternoon, and has just released a new performance evaluation report entitled "Workforce Issues Affecting Public School Teachers." Rakesh Mohan, director of the Office of Performance Evaluations, said, "In light of current interest in public education reform, I think you'll find this report to be a good resource for all policy makers and educational stakeholders to inform their policy discussions." He noted, "Not only we analyzed the data that was available to us … but we also surveyed all teachers, all superintendents and all public school principals. As a result, we had more than 2,800 responses that we analyzed in this report." The State Department of Education and State Board of Education also participated.
The report found that Idaho's average class size is 24 students to one teacher; though there are wide variations, the average didn't vary by level, with an average of 23 in elementary school, 25 in junior high and 23 in high school. The average teacher salary in Idaho was found to be $43,000, but the report found that teachers in all sizes of school districts typically don't top $40,000 a year until they've been teaching for at least 11 years; you can read the full report here.
Survey respondents reported concerns about increasing class sizes; 64.3 percent of superintendents surveyed said class size is a concern, as did 79.9 percent of principals. The report also identified "a strong undercurrent of despair" among teachers, who said they perceive a climate that "disparages their effort and belittles their contribution," said OPE analyst Lance McCleve.
School officials reported trouble recruiting teachers, particularly for hard-to-fill positions including science, math and special education. Salary was cited overwhelmingly as the top barrier to recruitment; 76.2 percent of superintendents and 66.7 percent of principals pointed to salary. In addition, 81 percent of superintendents and 59.9 percent of principals said they're concerned about their ability to retain their current teachers; even larger numbers said their teachers are taking on additional duties due to a loss of support staff.
The report suggested there may have been a reporting error in the figures collected by the State Department of Education about teacher departures over the last three years. "We conclude that a mass teacher exodus has not occurred, but that fears about such an exodus occurring in the future may not be totally unfounded," the report said. Click below for a full report from AP reporter Todd Dvorak.
Survey: Teachers concerned about class size, wages
By TODD DVORAK, Associated Press
BOISE, Idaho (AP) — A new survey commissioned by Idaho lawmakers finds that teachers and administrators in districts across the state have deep concerns about class sizes, salaries and negative public perceptions about teachers and their efforts in the classroom.
The findings presented Tuesday to the Joint Legislative Oversight Committee also tone down previous reports by state agencies and media showing Idaho teachers are leaving the state and profession in significant numbers. The report found that 937 teachers, or 5.4 percent of certified staff, left during the 2009-10 academic year and 1,112, or 6 percent, during 2011-12. Those totals are less than the 1,884 teachers the Department of Education reported leaving during the 2011-12 school year.
"A teacher mass exodus has not really occurred," Lance McCleve, an analyst with the Office of Performance Evaluations, told the committee. "But concerns about a mass exodus in the future may not be totally unfounded."
Education Department officials say they track turnover differently, survey districts typically before contracts are signed and are routinely updating data.
The report, requested by JLOC a year ago, focuses on workforce issues affecting teachers, principals and superintendents at Idaho's public and charter schools, from salaries to how well teachers are prepared and educated to challenges administrators face in hiring and keeping teachers on the payroll.
The committee requested the report to help shape policy for future reforms in public education and at a time the public was deeply divided over the expansive Students Come First overhaul approved by lawmakers in 2011. Those new laws — covering teacher merit pay, collective bargaining and a plan to give high school students laptops — were soundly rejected by voters in November.
Heading into the 2013 Legislature, GOP leaders in the House and Senate say there might be some interest in taking smaller steps in reshaping public schools, while Gov. C.L. "Butch" Otter is seeking recommendations next year from a broad committee of education leaders.
In developing its report, OPE analyzed surveys submitted by more than 2,400 teachers, 256 principals and superintendents from 84 of the state's 115 school districts and 43 charter schools. Analysts also included data from the Idaho Department of Education and other sources.
The study pegged the average class size at 24 students, though that total varies district to district, according to the report. Math, science and special education teachers remain the most difficult jobs to fill in districts big and small.
Full-time educators earn an average salary of $43,000 per year, ranking Idaho fifth lowest among its six neighboring states. About 11 percent of full-time teachers are paid at or near the state's minimum of $30,500, and teachers working in bigger districts are typically paid more than those in smaller, rural districts, according to the survey.
Idaho's low teacher pay is the biggest reason cited for teachers leaving the profession and the biggest challenge facing administrators in keeping and hiring teachers. Only 25 percent of superintendent and principals believe Idaho's compensation packages are competitive, a challenge exacerbated by administrators in rural communities, according to the survey.
"We are a rural district with the majority of teachers commuting approximately 60 miles per day," one administrator wrote in the survey. "The district had to make salary cuts to meet its budget. It is hard to entice teachers to commute when teachers can make the same amount at a close district."
Yet uncompetitive wages are just part of the puzzle facing administrators, according to the report.
Many respondents say teachers are being asked to do more, including lunch and recess monitoring, leaving less time for mentoring students one-on-one, lesson prep or developing new curriculum. Budget cuts have also led to shrinkage in support staff, creating more pressure and demands on teachers in the classroom. Nearly half of all respondents say loss of support staff has created significant changes in teacher duties.
The survey also revealed a majority of teachers and administrators believe they are underappreciated by the public and work in a culture that disparages their effort and contributions.
"We see an undercurrent of despair among teachers," McCleve told the committee. "We saw a large proportion of the respondents who perceive there is a climate that disparages their effort and belittles their contributions. It does raise concerns about long-term availability of teachers in Idaho."

Copyright 2013 The Associated Press.
---
---