Fri., Jan. 18, 2013
Senators hear from F&G commissioners, who say 'wolves are getting smarter'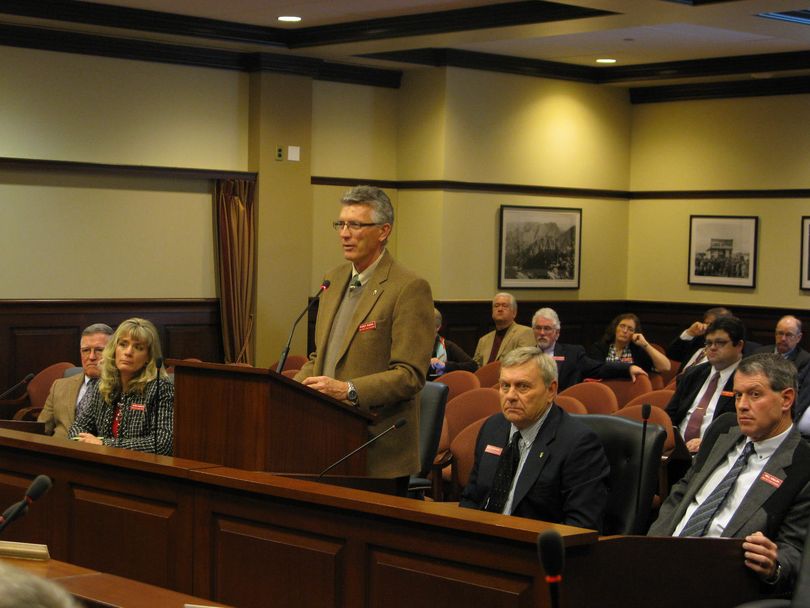 Randy Budge, chairman of the Idaho Fish & Game Commission, told the Senate Resources Committee this afternoon that a key to the future of hunting in Idaho is involving youngsters. "Our generation is getting a little grayer," Budge said; he's speaking, here, and is joined by the other commissioners to meet with the Senate panel. He also noted that Idaho is lagging behind other states in dealing with wildlife mortality through overpasses, underpasses and high fencing.
Tony McDermott, the North Idaho Panhandle member of he commission, told the senators, "I go off in May. It's been an interesting eight years. I can tell you that there's never been a dull moment, and it's come from all directions." He also addressed wolves. "Predators have to be managed, or you have problems," he told the senators. That goes for fish too, he said, as in Lake Pend Oreille. "We have saved that trophy rainbow trout fishery through the management of predators," McDermott said.
He said the elk population in the Lolo Zone is around 2,000, down from 15,000 in the 1990s. "The only way we're going to be able to deal with predators in that area is through predator control measures," he said. "Hunters understand the problem. They're readily buying wolf tags." But less than 1.5 percent of those who get tags actually take a wolf, he said, adding, "Trapping has made a difference." McDermott said wolf hunters in Idaho took 136 wolves in 2009, 173 in 2011, and 137 in 2012. "So we're about 20 percent off of where we were last year," he said. "Wolves are getting smarter."
At the end of the meeting, Budge told committee Chairman Monty Pearce, R-New Plymouth, that the commission would appreciate as much advance notice as possible if a new hearing date is set for confirmation of the appointment of Commissioner Joan Horlock of Buhl, so they can get to Boise for the hearing. Pearce simply responded, "Thank you." Asked afterward, he said he hasn't set a hearing date.
---
---