Fri., Jan. 18, 2013
When JFAC held public hearings…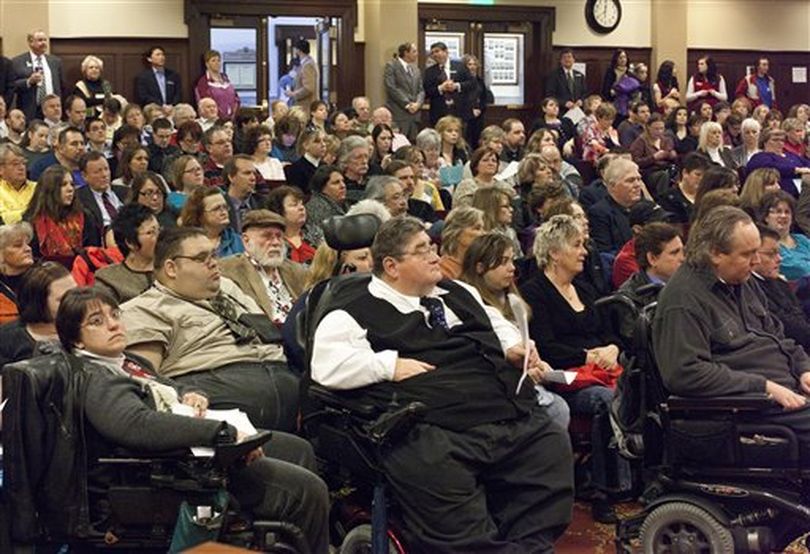 This photo is from the big public hearing that the Joint Finance-Appropriations Committee held on Jan. 28, 2011 on the Health & Welfare budget, which drew nearly a thousand people who spilled out of a packed Capitol Auditorium into five separate overflow rooms. Today, JFAC announced that it's canceling the public hearings on the state budget that had been scheduled this year for Feb. 1 and Feb. 8 at the direction of legislative leaders, who don't want the Joint Finance-Appropriations Committee to get out ahead of the House and Senate education committees as they consider the results of voters' rejection of the "Students Come First" school reform referenda.
Nearly 2,000 people traveled from all parts of the state to Boise for the hearings over the past two years; prior to that, JFAC, which sets the entire state budget, was the only legislative committee that didn't take any public testimony – a status it regains with today's announcement.
2011 marked JFAC's first-ever public hearings; a Jan. 21 hearing on the public schools budget drew more than 500 people, nearly 80 testified, and another 400 submitted written comments. Among them was Matt Barkley, a school band director from Post Falls, who said it was worth it to travel 400 miles to give his input. "I was a little nervous with the large crowds here," Barkley said after he spoke. "I came down at 6 in the morning to get in line. It was worth it - I heard a lot of compelling testimony, and I hope that the committee heard that, too." A week later, the hearing on the Health & Welfare budget drew even more people.
Last year, JFAC held a single public hearing on Feb. 3; more than 200 people attended and more than 60 testified. More than 40 addressed concerns, often very personal ones, about funding for Medicaid and Health & Welfare programs; more than half a dozen spoke out for establishing a state suicide prevention hotline, including parents who'd lost children to suicide; nearly as many spoke about education funding; and several expressed concerns about state employee compensation. All those concerns later were addressed when JFAC set the state budget for the year.
At the close of the 2012 hearing, JFAC Co-Chair Dean Cameron, R-Rupert, said quietly, "We thank you for coming and participating, and we have heard your message." From the audience, a woman called out, "Thank you!"
---
---