Wed., Jan. 30, 2013
DEQ seeks 'maintenance' budget, highlights successes on lead, arsenic…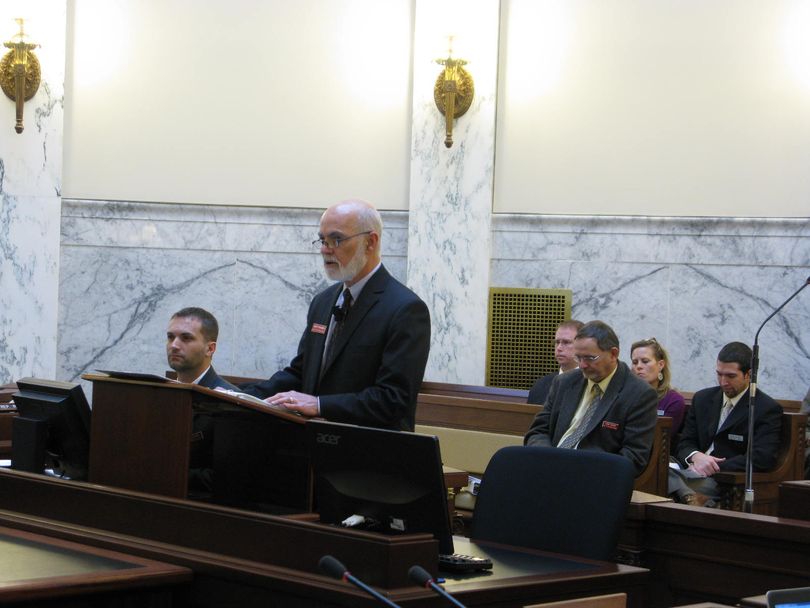 Idaho Department of Environmental Quality Director Curt Fransen is making his first budget presentation to JFAC this morning, so he introduced himself, noting that he was appointed by the governor last February after serving five years as deputy director under then-Director Toni Hardesty. "I think I'm missing her today," Fransen said, drawing a laugh from lawmakers. He also noted that prior to that, he worked nearly 25 years as a deputy Idaho attorney general, representing DEQ and other agencies, and was stationed in Coeur d'Alene for the last 10 years of that.
DEQ is proposing "basically a maintenance budget," Fransen told legislative budget writers. He noted concerns about cuts in federal funds that go to DEQ's underground storage tank monitoring program. "To date, we've eliminated one position and drastically reduced our operating budget in this area," he said. "We can at present manage this program and maintain state primacy. However, in the event of any further federal cuts in this program, we may need to identify additional funding sources or consider turning it back to EPA."
There are also concerns about federal funding levels for drinking and wastewater programs, he noted. "None of these potential decreases are to the point where we need to bring specific proposals to the Legislature," Fransen said. "However, we will continue to monitor the national situation … and keep this committee apprised." Fransen highlighted successes in DEQ efforts in recent years along with his agency's budget request; click below to read more.
Fransen highlighted successes in DEQ efforts in recent years, from blood-lead levels of children in the Coeur d'Alene Basin falling dramatically from dangerous highs to the national average, after thousands of properties were remediated to remove lead-contaminated soil; to DEQ leading the nation in utilizing "point-of-use" treatment technologies to manage arsenic in public drinking water systems, "therefore avoiding the capital cost of more traditional centralized treatment facilities."
Sen. Steve Vick, R-Dalton Gardens, asked about the Coeur d'Alene Basin cleanup, "Why does the state need to continue to put money into that program for the cleanup?" Fransen replied that the state had an obligation for a 10 percent match to federal Superfund dollars spent on the cleanup, and has two Superfund contracts with the EPA, one for the central "box" at the heart of the basin, and the other for the larger basin area, that specify state obligations, including for operation and maintenance.
Vick said he thought "fines levied against the mining companies" could cover it all. Fransen said, "I think you're probably referring to the settlements. There haven't actually been fines against the mining companies, but there have been lawsuits," resulting in very large settlements, which are going to help pay for cleanup. Vick said, "I think it's just a matter of semantics, settlement, fine, in my mind it's the same thing."
For fiscal year 2014, DEQ is requesting $14.9 million in state funding, a 4 percent increase. In total funds, the agency's budget request for next year comes to a little over $66 million, an increase of more than 7 percent; that increase is largely due to the next installment of $4 million in federal EPA funds for yard remediations in the Coeur d'Alene Basin. "This work will begin to dramatically decrease in the next three or four years, and future spending increases will drop accordingly," Fransen said.
The only general-fund increase that's being requested, which Gov. Butch Otter also has recommended, is for $300,000 for a fish consumption study, as a result of a dispute between the DEQ and the EPA over standards for toxics in Idaho's water; the EPA charged that Idaho underestimated fish consumption among residents, which would push the toxics standards to levels 10 times more stringent than they were in 2006. The fish-consumption study would provide the documentation for DEQ to develop a new rule. "We're making an honest effort to come up with a real number that we can defend," Fransen said.
---
---