Fri., June 28, 2013
Sad news on one of four peregrine falcon chicks downtown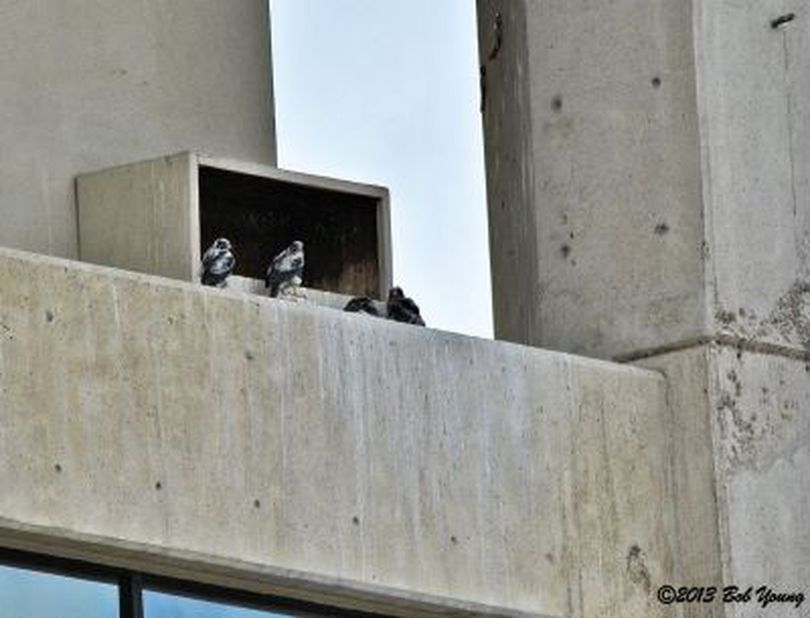 There's some sad news on the peregrine falcon front downtown: One of the four fledglings, all of whom had successfully fledged and were trying their wings and learning hunting skills in downtown Boise, has died after crashing into a window. Idaho Fish & Game reported today that the juvenile female died this morning; three males remain. "Our Fish and Game Department has been doing an incredible job following up on the falcons this year," the Peregrine Fund reported. "After rescuing all four of the fledglings and banding them, it is unfortunate that they also had to report on the first mortality."
Young peregrine falcons face steep odds, the fund said, with more than 50 percent of young peregrines, and raptors in general, not surviving their first season in the wild. After that first season, the mortality rate drops to about 12 percent.
A pair of peregrines laid four eggs in a nesting box atop One Capitol Center in downtown Boise this spring; the first three eggs hatched May 12, and the fourth the next day. Between June 17 and June 20, three of the chicks were rescued by Idaho Fish & Game after being blown off the building ledge by strong winds; another, one of the males, was rescued on Wednesday after it became stuck behind a structure on the roof of the Banner Bank building, two blocks north of its nest. All the chicks were banded for identification.
The Peregrine Fund and Idaho Fish & Game maintain a "Falcon Cam" where people can watch the peregrine family in its nest; on June 24, after all four chicks had moved out of camera range, it replaced the live feed with a photo gallery.
---
---