Mon., Nov. 18, 2013
South Dakota's Chuck Staben named new president of U of I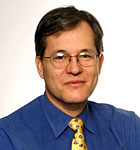 Chuck Staben, provost and vice president for academic affairs at the University of South Dakota, has been named the new president of the University of Idaho; the state Board of Education voted unanimously today in favor of the choice. Staben's salary will be $350,000 a year, and he was appointed for a term of three years, starting March 1. Asked how long he plans to stay in the position – at a university that's seen considerable turnover in its top position in recent years – Staben said, "Longer than three years," to loud applause from a crowd gathered for the announcement in an auditorium on the U of I campus in Moscow.
Staben, 55, said, "What I was really looking for as I looked at this opportunity, was the opportunity to have what I call … one last good job for me. I can work 10 or 15 years more. … My wife hates to move. It turns out she's enthusiastic about this move, but she may not have any more in her, and that's OK."
You can read my full story here at spokesman.com. Staben cited increasing the number of students who both enroll and graduate, and strategic expansions in university research as among his priorities. He is a biochemist with a Ph.D from the University of California at Berkeley and a bachelor's degree from the University of Illinois. He's been at South Dakota since 2008, and previously served as a vice president and professor at the University of Kentucky, from 1989 to 2008. His wife, Mary Beth, is a physician; they have three grown children, all in college or graduate school. Among Staben's successes at South Dakota has been managing through a series of state budget cuts.
---
---