Mon., Oct. 7, 2013
Lawmaker's family goes from grief to forgiveness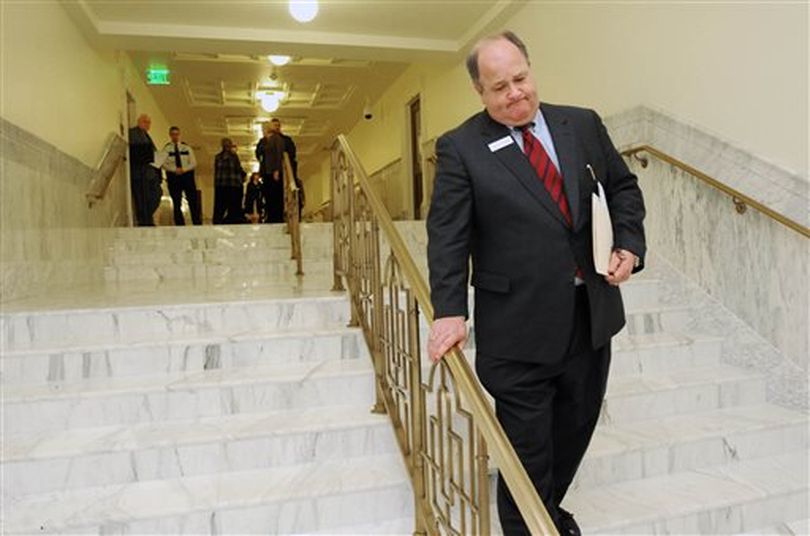 State Senate Majority Leader Bart Davis and his wife, Marion, know grief, having buried their 23-year-old son a decade ago, reports AP reporter John Miller; they've come to know forgiveness, too. Davis and his family have decided not to oppose parole for their son's killer, a fellow BSU student who shot Davis' son to death at a party in 2003 after an argument. Now, 32-year-old Vincent Craig Olsen could leave the South Idaho Correctional Institution by next week. Click below for Miller's full report.
Lawmaker's family goes from grief to forgiveness
By JOHN MILLER, Associated Press
BOISE, Idaho (AP) — State Sen. Majority Leader Bart Davis and his wife, Marion, know grief, having buried their 23-year-old son a decade ago. They've come to know forgiveness, too.
At an April 9 parole hearing, with his wife seated next to him, Davis told Idaho's three parole commissioners the couple wouldn't oppose the release of the man who killed their boy, Cameron Wade Davis, at a Boise keg party in March 2003.
Do only your jobs, Davis said. If Vincent Craig Olsen was ready for life outside prison, he would respect their decision.
Though a hearing officer recommended against paroling Olsen so soon, Davis' words helped tip the balance, clearing the way for the now 32-year-old Olsen to serve the remainder of his 25-year manslaughter sentence beyond prison walls.
Olsen could leave the South Idaho Correctional Institution by next week.
Davis, who agreed to speak to The Associated Press only reluctantly about his testimony that day, said it wasn't just Vincent Olsen's future at stake.
Davis and his wife saw in Olsen's parents, Craig and Lenna Olsen, good people who were suffering, too.
"We saw their hearts ache," Davis wrote in a statement to the AP. "With time, we prayed for them. With a little more time, we prayed for their son. Our loss is real, but now there is comfort."
Something else bound the Davis family to the Olsens, too: They also knew what it meant to lose a child. In 1999, their 16-year-old son, Eric Olsen, was killed when a makeshift cannon he'd constructed exploded at the family's Boise home.
Bart Davis said he "does not believe there is a family ... that understands like the Olsen family," according a transcript of the 15-year Republican lawmaker's comments from the parole hearing.
Vincent Olsen declined an interview request but sent a statement to the AP.
"It is hard to describe the feelings of regret I have for taking Cameron Davis from their lives," he wrote. "I owe to them un-payable debts, both for what I did and for the mercy they have shown."
Early March 14, 2003, Cameron Davis, a computer science student at Boise State University, was at a party house near campus in Idaho's capital.
Olsen, a then-21-year-old BSU engineering student, arrived after 12:30 a.m.; he'd been drinking and a .45 caliber revolver was hidden beneath his clothing.
The two young men didn't know each other but had similar backgrounds: Cameron Davis was a lawyer's son, Vincent Olsen's father was a Boise surgeon. Both were Eagle Scouts and members of The Church of Jesus Christ of Latter-day Saints.
Both experienced troubles: Davis had several scrapes with the law, including for underage drinking.
In April 2002, Olsen was arrested for resisting arrest and drunken driving; Boise Police Department patrol officers had to break open his car window and pull him out. Friends said he looked for fights.
At the party, Olsen and Davis argued. Davis threw beer on Olsen. Olsen drew his gun, firing two shots.
When police arrived, Olsen had fled; Cameron Davis lay dead.
Olivia Craven, the Idaho Pardons and Parole Commission's executive director, said hearings like Olsen's in April are often charged with emotion. A partition divides families of victims from the families of convicts.
Craven met with Davis a month before the hearing, not only to tell him of what to expect — it was Olsen's first chance at release, and Davis' first parole hearing — but to gauge his sentiment.
What she remembers most was Davis, the second-highest-ranking Senate leader, asked for no favors.
Following his release, Vincent Olsen will live with his family in Boise. He must remain drug and alcohol free. Any friendships he establishes must have his parole officer's approval.
In a statement to the AP, his parents, Craig and Lenna Olsen, acknowledged the Davis' terrible loss.
"Only people with their generosity of spirit could absorb all that and still be willing to offer a healing hand to our family," they wrote.
Davis concedes it's hard to forgive, but he knows it's possible.
"We learned that if we truly asked God to remove something awful from our hearts, and replace it with peace, forgiveness, and joy, he would," he wrote. "We can't fully explain it. We only know it is true."

Copyright 2013 The Associated Press
---
---