Fri., Oct. 25, 2013
Denney killed bill to end retirement boosts, now could benefit…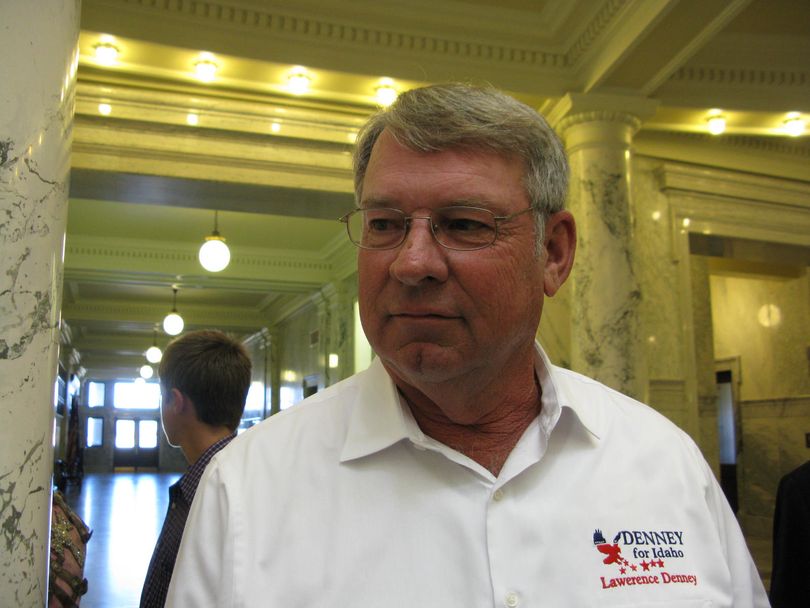 Former Idaho House Speaker Lawerence Denney, whose pension benefits would soar by more than seven times if he wins his bid for Secretary of State, personally killed legislation last year designed to end the costly special treatment for longtime legislators who land high-paying government posts at the end of their careers. "He's the one that made sure the bill died," said former state Rep. Dennis Lake, R-Blackfoot, the bill's sponsor.
Idaho legislators, who are currently paid $16,438 a year, qualify for only modest pension benefits under the Public Employee Retirement System of Idaho, or PERSI, because of their low salaries; based on his nine terms in the House, Denney, 65, would get about $500 a month per life. But a quirk in the law means that if Denney were to serve one four-year term as Secretary of State after his years of legislative service, his benefit would rise to more than $3,600 per month. That's because PERSI sets retirement pensions based on the highest-paid 42 months of state employment. The current salary for the Idaho Secretary of State, by law, is $99,450 a year.
Denney acknowledged that he directed a committee chairman to scuttle Lake's bill in 2012. "We have a citizens commission that sets legislative compensation," he said. "And they are the ones that should be dealing with all of that, in my opinion. … That was passed to take the politics out of it, and if we get involved, we're putting the politics back into it." However, the chair of that citizens commission, Boise attorney Debora Kristensen, said the commission never was asked to look at the issue – and she doesn't think it's within their purview.
Lake, who retired from the Legislature after the 2012 session, said he still thinks Idaho should eliminate the pension perk for former lawmakers. "It's absolutely wrong for a legislator to be able to accumulate time as a legislator, and then collect their pension as a high-paid executive," he said. "That's wrong." You can read my full story here at spokesman.com.
---
---