Tue., Sept. 3, 2013
Idaho church leaders launch fast, prayer vigil for immigration reform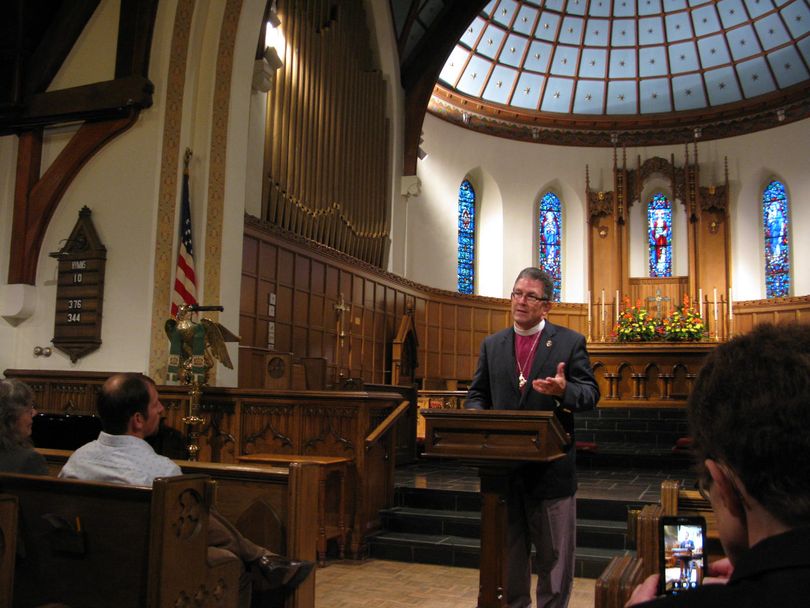 Immigration reform advocates are joining the Episcopal Diocese of Idaho along with Mennonite and Unitarian churches in Boise to launch 11 days of fasting and prayer for immigration reform, culminating in a candlelight prayer vigil Sept. 13 at Lakeview Park in Nampa, with the 11-day timeframe symbolizing the 11 million undocumented immigrants now estimated to be in the United States.
Church leaders said the issue goes straight to their faith. "Abraham himself was an immigrant," said the Rev. Debbie Graham, an Episcopal priest serving Meridian, Payette and Weiser, in a news conference at Boise's historic St. Michael's Episcopal Cathedral today. She noted the Biblical injunctions to welcome the stranger. "One of the sad things in our country is that for too long, our undocumented neighbors have been strangers to us," she said. The advocates noted that the Catholic Church is planning immigration reform messages at services nationwide on Sunday.
Mark Schlegel, pastor at Hyde Park Mennonite Church, said his Mennonite ancestors came here in search of religious freedom, "in search of a place where they could farm in peace." He recalled the nation's struggles as it absorbed immigrants from Ireland, China and more. "But as a nation, we forget our stories," he said. "And when we forget, we become the oppressors."
The Rev. Karen Hunter of Grace Episcopal Church in Nampa said her congregation is conservative, but the issue was brought home for them when a church member was imprisoned because he is undocumented; he was brought to the United States as a young child, and has a wife and three children, including one with autism. The man now faces deportation. "This has kind of opened our eyes and our hearts to the real injustice of the present situation," Hunter said.
Bishop Brian Thom of the Episcopal Diocese of Idaho, which includes 30 congregations, said, "In exercising the immigration laws that we have now, we actually do harm to our souls and families. … It must change." The religious leaders and the Coalition for Immigrant Rights of Idaho called on Idaho's congressional delegation to make immigration reform a top priority when Congress reconvenes next week.
---
---