It's so officially official…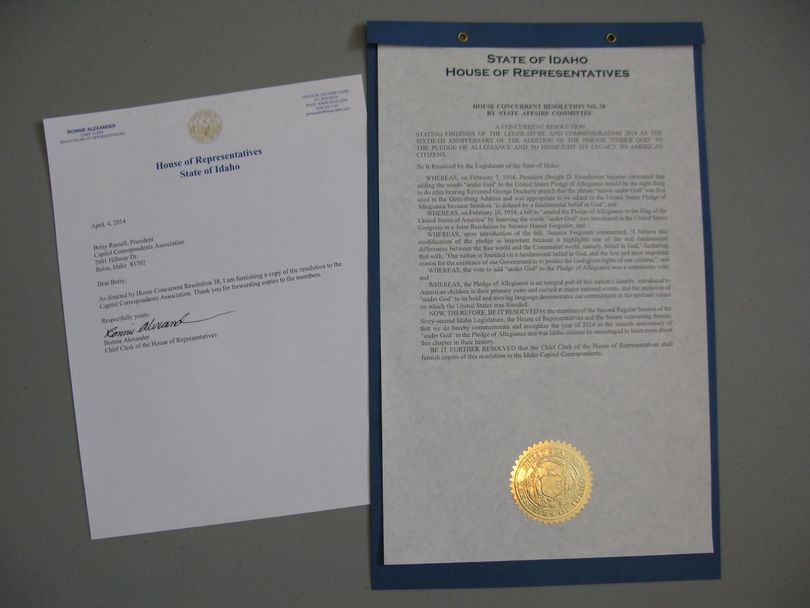 Of the 400 pieces of legislation enacted by the Idaho Legislature this year – 357 bills and 43 resolutions or memorials – just one required specifically among its provisions that copies of it be furnished to the Idaho Capitol Correspondents, who are the reporters credentialed to cover the legislative session. I know, because, having toiled as chairman of the correspondents association for some years, I have never before been called upon to assist the Chief Clerk of the House of Representatives in performing this solemn duty.
The measure in question? It's HCR 38, a concurrent resolution by freshman Rep. James Holtzclaw, R-Meridian, commemorating 2014 as the 60th anniversary of the addition of the phrase "under God" to the Pledge of Allegiance. Holtzclaw said in the measure's Statement of Purpose that the resolution is intended to "highlight its legacy to American citizens."
Thus, shortly after the session ended, I was contacted by the chief clerk's office about distributing the copies to the more than 55 credentialed Idaho capitol correspondents. I emailed the electronic copy of HCR 38 to all correspondents. I received a couple of responses, including one tongue-in-cheek request for a notarized copy, and another from a reporter who claimed he'd been "wondering when we would get our personal copy." Now, today's mail has brought the official copy, dutifully mailed out by Chief Clerk Bonnie Alexander.
---
---