Idaho declares Type 1 diabetes awareness day, at urging of 11-year-old with the disease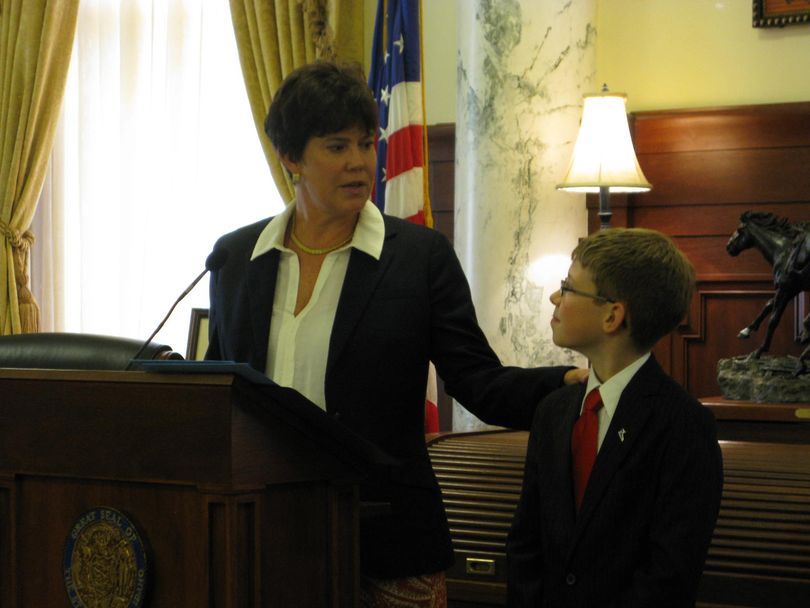 Thanks to the persistence of 11-year-old Carson Magee of Coeur d'Alene, Idaho has now officially proclaimed the second Monday of February as "Type 1 Diabetes Awareness Day," and Carson's helping plan an awareness event at the state Capitol that day. Carson was diagnosed with the disease at age 7, and as a result, he said he has to test his blood glucose and take shots six to eight times a day. "I just want people to know the symptoms … and join our efforts for a cure," Carson said at a ceremony today in the governor's office, where First Lady Lori Otter formally signed the proclamation.
Lori Otter told the young man, "I commend you – not everybody is willing to step up and be part of the solution, and you are." Type 1 Diabetes has no cure, and unlike Type 2 diabetes, is unrelated to diet or lifestyle; it formerly was called juvenile diabetes. According to JDRF, formerly known as the Juvenile Diabetes Research Foundation, Type 1 diabetes is an autoimmune disease in which the immune system attacks and destroys insulin-producing beta cells in the pancreas, rendering millions of Americans dependent on insulin injections and 24/7 vigilance to survive.
Carson was a delegate to a national JDRF children's congress on diabetes in Washington, D.C., and met another youngster who had persuaded Oklahoma to pass a similar proclamation. He decided to work toward one in Idaho, and noticed that Gov. Butch Otter and First Lady Lori Otter were going to be in his hometown for the Ironman Triathlon. That day, Carson rode his unicycle across the park to see the governor – he's an accomplished unicyclist – and the governor and first lady and their staffers listened to Carson's proposal with interest. "They took him very seriously," said Carson's mom, Fondra Magee. "They kind of surrounded him and got all the information about what he wanted to do."
The Feb. 9 event in the state Capitol rotunda will include endocrinologists and families with members who have Type 1 diabetes who can answer questions people have about the disease and its symptoms. "I really think it will raise a lot of awareness," Carson said.
---
---