Otter touts ed results, new tax incentive in address to business community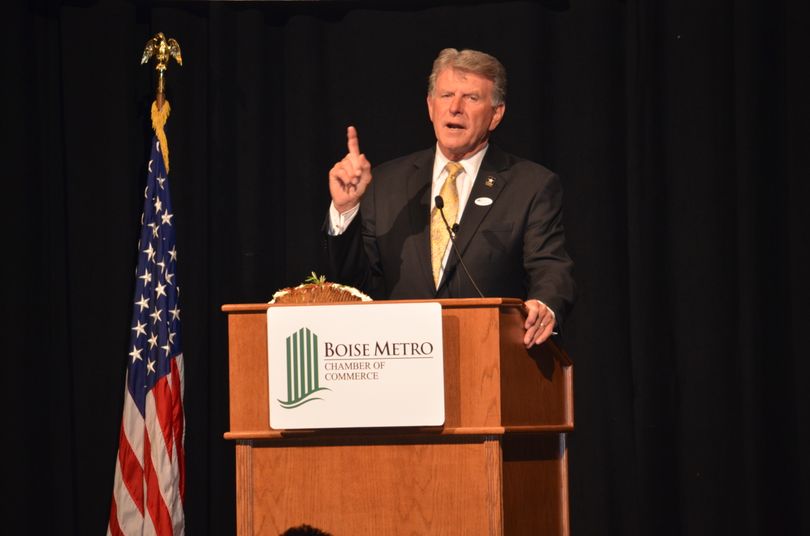 Gov. Butch Otter defended the state's direction on education — and its funding commitment — in a speech to some 600 Treasure Valley business leaders today, reports Kevin Richert of Idaho Education News. The occasion was Otter's annual address to the business community, and Otter didn't directly address his re-election campaign – or his Democratic challenger, longtime Boise School Board Chairman A.J. Balukoff – in the speech. But he did touch on a point of contention in the race between the two, Richert reports.
Balukoff, in a fundraising email last week, took the state to task for its per-pupil spending, which perennially sits near the bottom of national rankings. The rankings, he said, are "downright shameful." Otter told the Boise Metro Chamber of Commerce luncheon today, "I still think we have to look at the results. It's not how much money you spend, it's how you spend the money."
He said the 2014 Legislature took a "great leap forward" in restoring school funding after recession-era budget cuts, though the restoration isn't complete; it was part of the first step in a five-year plan, he said. You can read Richert's full report here.
Meanwhile, Idaho Statesman business reporter Zach Kyle, in his report on the speech, writes that Otter "stuck to familiar talking points," including touting the new tax reimbursement incentive law that took effect July 1 and for which the Idaho Economic Advisory Council is considering its first applicant today, an airline that wants to build a big new maintenance facility in Boise. Kyle's report is online here; the Boise Weekly reported on Sunday that the airline in question is SkyWest.
---
---