Mon., Dec. 1, 2014
Idaho Legislature's number of permanent staffers far below national average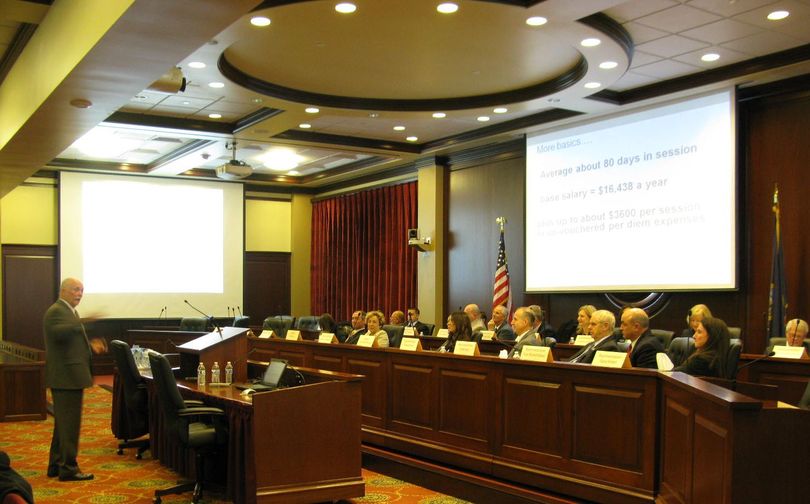 As part of their orientation, Idaho's newest state legislators are hearing a presentation today from Boise State University political scientist Gary Moncrief, an expert on legislatures. Among his revelations: Permanent legislative staff in Idaho is far lower than in most states. A 2009 survey by the National Conference of State Legislatures found that the mean for permanent state legislative staffers, nationwide, was 551. Idaho's total: 81. Highest was Pennsylvania with 2,918; New York was second with 2,676; and Texas third with 2,090. The three lowest states: South Dakota, 55; Wyoming, 39; and North Dakota, 32.
"Idaho is pretty small," Moncrief said. "It's a great staff – there are not very many of them."
Not only will lawmakers not have lots of staff help, Moncrief told the new legislators, they also won't be highly paid in their new posts, with base salary of $16,438, due to rise to $16,684 in the coming year if lawmakers don't reject the 1.5 percent raise. "You're not going to make a lot of money," Moncrief said. "You're not going to get rich. It's going to cost some of you money to be here. I thank you for your service."
Idaho has one of the highest percentages of its bills that become law, at 61 percent, Moncrief said. But there's a reason for that: It's the only state that in most cases requires a majority of a committee to vote to print and introduce a bill. So bills that in other states might not have gone anywhere, in Idaho never even become bills.
Moncrief said when state legislators were surveyed several years ago about how much time they put into their legislative duties, including everything from sessions to meetings to case work to campaigning, among Idaho lawmakers, 67 percent said it was at least half-time year-round. In Washington, that figure was 91 percent; in Wyoming, 21 percent.
---
---