Fri., Dec. 12, 2014
Standing-room only for open government workshop in Sandpoint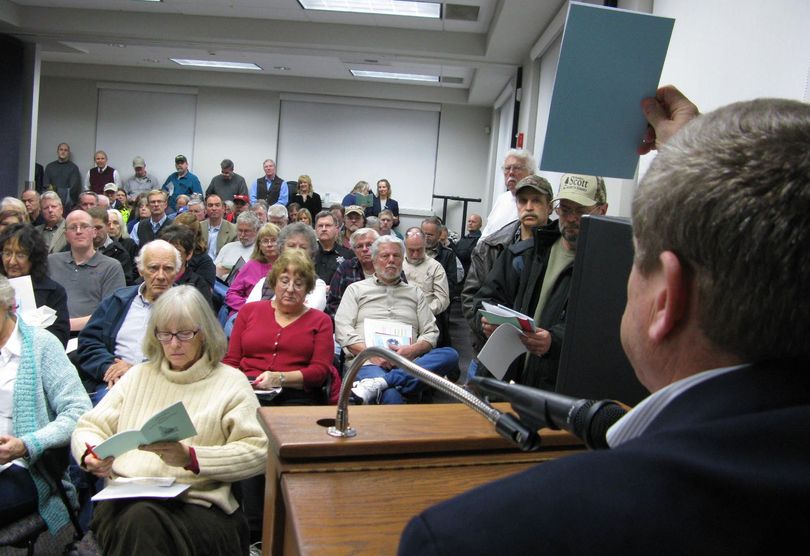 It was standing-room only in Sandpoint yesterday afternoon as 75-plus people filled the Sandpoint Library's community room for a workshop on Idaho's open meeting and public records laws – a record turnout for Sandpoint, which had half as big a crowd the last time IDOG's open government sessions came to town in 2011. "In the simplest terms, the open meeting law is your ticket to the show, and the show is government," Deputy Attorney General Brian Kane told the crowd. "When in doubt, open it up."
Those attending ranged from the county sheriff to local elected officials to government employees, reporters, a newly elected state lawmaker and lots of interested citizens. However, the Bonner County Daily Bee, which co-sponsored the session, pointed out the next day that Sandpoint city officials skipped the workshop – and held a controversial, closed-to-the-public meeting about oil and coal train traffic in the region the same afternoon.
Idaho Attorney General Lawrence Wasden, the lead presenter at the workshop, said, "It's important that we have an understanding about how to access information in our government. It's really important, and the reason for that is the greatest strength in our system is public involvement. … Our system works because people can have access to information."
New Daily Bee publisher Jim McKiernan welcomed the crowd, and members of the audience participated in a series of humorous skits as they learned about the provisions and requirements of the Idaho Open Meeting Law and the Idaho Public Records Act. Attendees also left with handouts including the Attorney General's manuals on both laws.
---
---