Tue., Feb. 4, 2014
Wasden: State needs to stop hiring expensive outside counsel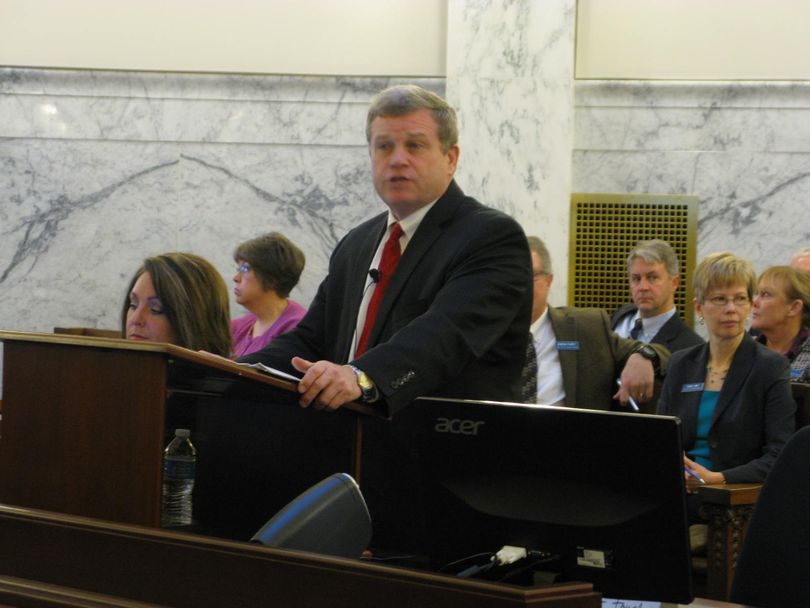 Idaho Attorney General Lawrence Wasden says the state needs to fully fund the attorneys it needs in his office, and stop hiring expensive outside counsel. "The minute a state agency starts hiring outside counsel, the meter starts running at $125 an hour, and as high as $250," Wasden told the Joint Finance-Appropriations Committee this morning. The median hourly salary for an attorney in his office is $36.39 an hour, he said.
"No matter how you look at it, a case more than doubles once you walk outside the Statehouse doors," Wasden told lawmakers. "Outside legal counsel should be used only in those instances when my office lacks the necessary legal experience. I encourage the Legislature to convene an interim committee to identify opportunities to bring more legal services in-house."
He said, "More expensive attorneys do not mean better representation – they just mean more expense."
Wasden noted that a new bill is being introduced to require his office to conduct public corruption investigations at the county level. That additional workload will require one additional deputy attorney general and two investigators, Wasden said. "Public corruption is not a subject that should be addressed with nickels and dimes, but instead be made a priority in our state," Wasden said.
He noted that his office returns $3 to the state for every $1 in funding it's appropriated; that's from everything from consumer protection lawsuits to Medicaid fraud recovery to the nationwide tobacco settlement. Rep. Marc Gibbs, R-Grace, asked, somewhat tongue-in-cheek, if the state's budget problems would be solved if it just turned all its money over to the attorney general. Wasden, amid laughter, said, "The answer to that question is clearly yes." He said there would be a point of diminishing returns, but, "There are things we could be doing that would be cost-effective."
He is requesting a 3.1 percent increase in state general funds next year and four new positions; Gov. Butch Otter is recommending just a 0.2 percent increase and no new positions.
---
---