Mon., Feb. 10, 2014
Future fed cuts could crimp Idaho's transportation budget…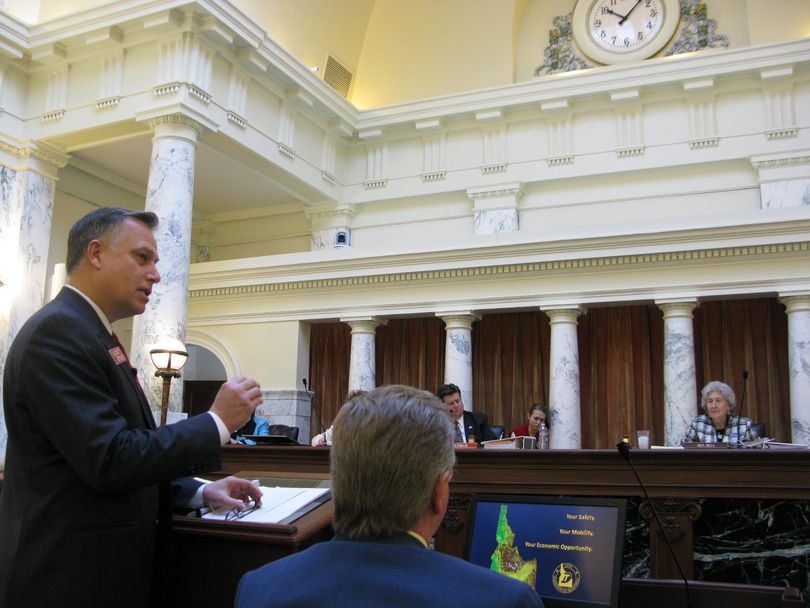 Scott Stokes, deputy director of the Idaho Transportation Department, is making the department's budget pitch to lawmakers this morning, as Director Brian Ness is out sick today. ITD receives no state general funds, but its budget, which comes largely from state gas taxes and federal funds, is a significant one. Gov. Butch Otter's proposal for next year calls for a 5.2 percent increase in ITD's budget; the current year's budget marked a 5.9 percent decrease. The budget includes $257.7 million in dedicated state funds, largely from fuel taxes, and $259.8 million in federal funds, for a total of $517.4 million.
Because of the reliance on federal funding, Stokes warned that a $12 billion shortfall in the federal highway trust fund is of concern. "Revenue from the federal general fund is currently being used to make up that difference," he said. Congress will need to either raise revenue to the trust fund – through continuing to dip into the federal general fund or through a tax increase – or cut funding to the states. If the shortfall isn't made up in the future, Stokes said, Idaho could lose as much as $100 million a year in federal highway funding.
"We don't know what our future funding will be, but we know that even with the current funding, we must be as efficient as possible," Stokes said. "We must operate within our means to keep the roads and bridges in good condition." Idaho's bridges are designed to last 40 to 60 years. But, Stokes said, "At current funding levels they will have to last 120 years, two to three times their expected life." He said, "We are working as hard as we can to replace as many as we can with our current funding."
Idaho's pavement needs also are big, Stokes said. Pavement conditions are now being examined more closely for preventive maintenance needs. "We have the ability to look forward, and we don't like what we see," he said. "On the surface, some of our pavement may look black and shiny, but looks can be deceiving. … Much of the sand and gravel base underneath the pavement is old, it is nearing the end of its life cycle and will soon have to be replaced."
Stokes said ITD has saved money through major staff realignment, and now has 90 fewer full-time positions. "Even with this significant reduction in workforce, we improved customer services without going backwards in safety," he said. He also pointed to cost-forecasting improvements that have allowed for an additional $100 million in road projects over five years, and lower construction costs that allowed GARVEE bond funds to cover more road work. GARVEE stands for Grant Anticipation Revenue Vehicles; it's a mechanism authorized by lawmakers in 2007 that allowed the state to borrow against its future federal highway allocations to fund big, specific highway upgrade projects. Next year's GARVEE bond payment will be just under $59 million. "2031 is the last bond payment," Stokes said.
Stokes noted that a governor's task force estimated Idaho needs to spend $262 million more a year to keep its current road system in shape. "By deferring maintenance, what we can do today at lower cost, we are essentially passing on a rapidly growing debt to our children and grandchildren," he said.
---
---