Thu., Feb. 13, 2014
60 'Add the Words' protesters file into Statehouse, stage silent protest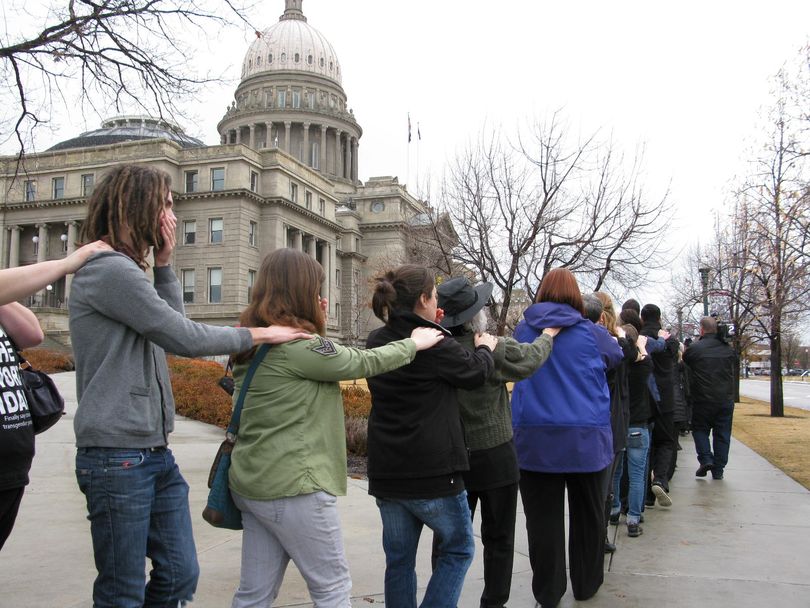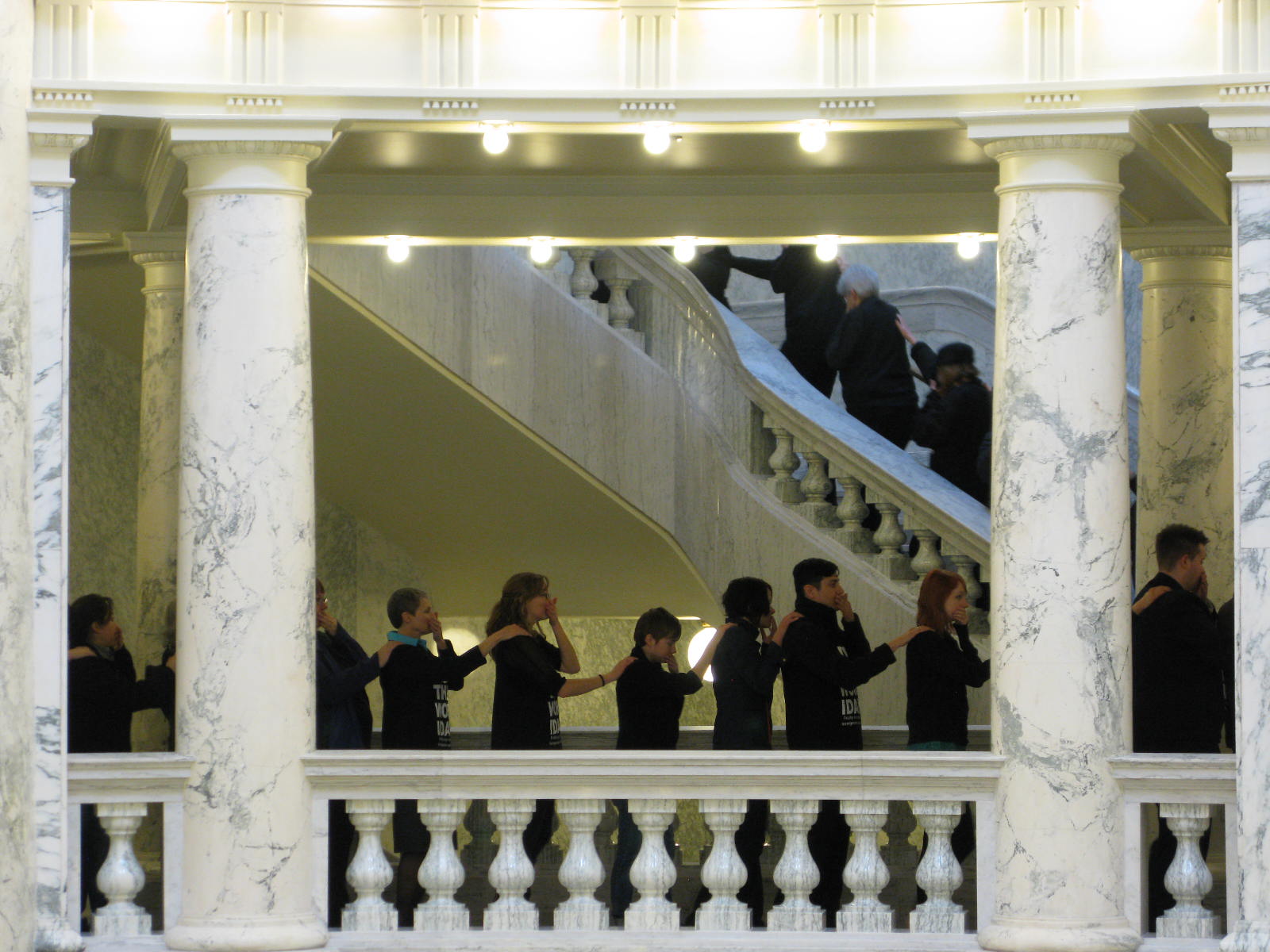 A line of about 60 silent "Add the Words" protesters marched in single file halfway around the state Capitol and back today, then entered the statehouse on the second floor, filed upstairs, and were refused entrance to both the Senate and House galleries because they were wearing protest T-shirts. Their dark shirts all said, "Add the 4 Words Idaho." After going to the gallery entrances in both houses on the 4th floor, the protesters silently filed back downstairs to the third floor, where they circled the rotunda, then stood silently, ringing it.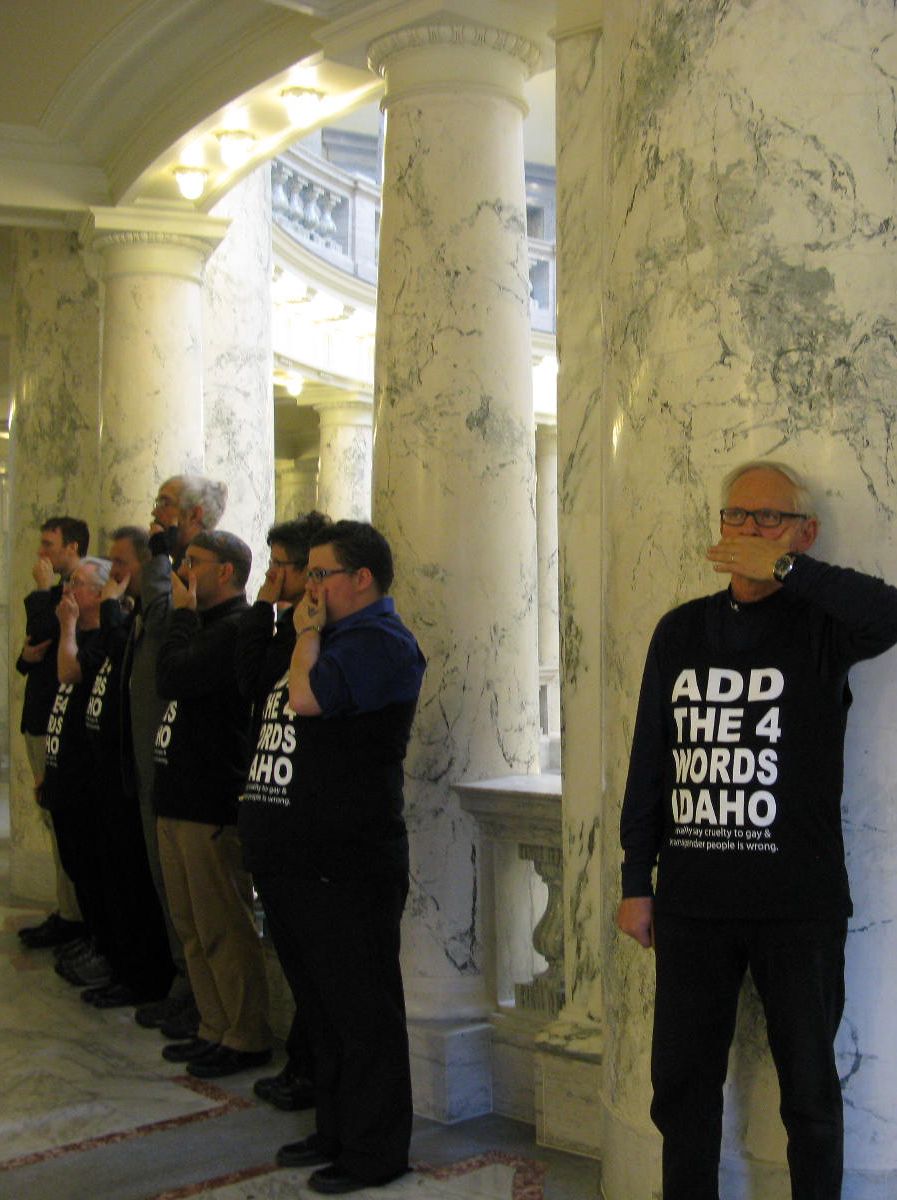 Asked how long they'll stay, former state Sen. Nicole LeFavour, D-Boise, said, "As long as they're able. They'd like to be seen, they'd like to be heard." Nothing prevents the protesters from standing in the rotunda, where they're lined up along the inner railing and not blocking anything. Some of the protesters are among the 44 who were arrested last week for silently blocking all entrances to the Senate chamber.
The group wants the words "sexual orientation" and "gender identity" added to the Idaho Human Rights Act, to extend protections against discrimination in housing, employment and public accommodations. The act currently prohibits discrimination on the basis of factors including race, religion, disability and more, but not on those. Legislation to make that change has been proposed each year for the past eight years, but has never gotten a hearing. After the protest, the protesters released a statement; click below to read it.
For immediate release
Feb. 13, 2014
Idaho Senate Pro Tem locks down Idaho Senate chambers; more than 60 denied access to galleries
BOISE -- Demonstrators intent on protecting gay and transgender Idahoans from discrimination returned to the Statehouse Thursday in a silent protest. Walking silently in a long line, hand over mouth they crossed a nearby park and entered the Capitol building by the front steps.
The line, which wound through the marble-linded hallways, grew to more than seventy people, including clergy, grandparents, parents and high school students. Demonstrators circled the third floor rotunda where law makers were in Session after state police and security turned them and their non-discrimination message away from the House and Senate viewing galleries.

"We wanted to go where law makers could have seen us and looked us in the eye, but they said the message 'Add the 4 Words Idaho' on our t-shirts was unacceptable in the gallery. They changed the rules two years ago just so we couldn't wear our t-shirts in there then. They still are turning us away," said Judy Cross a registered nurse and leader with the Interfaith Alliance of Idaho. She was one of the 44 arrested on February 3rd in a demonstration which, for two hours, shut down the Idaho Senate Chambers.

Cross Continued, "I wish they understood how many stories they've silenced. Why after eight years they refuse to hold even a public hearing I do not understand. Instead of listening today, Senate ProTem Brent Hill locked the senate chambers, showing the nation yet again how gay and transgender people have been excluded from Idaho's legislative and democratic process. So many people have been hurt and have lived every day with the fear of being hurt and they have never said that that is wrong."
Silently demonstrators walked around the Statehouse and through its halls, hand-on-shoulder in one line. All sixty held one hand up over their mouths. This gesture used by demonstrators they say symbolizes how families, businesses and individuals have been silenced by the Legislature's failure to hold a public hearing or pass the bill often referred to as "Add the Words."
MaryEvelyn Smith, long time community member and one of the 44 arrested previously, said, "We put up sticky post it notes and they took them down; we stood in the halls and galleries in our t-shirts and they asked us to take them off, we are back and we are not going away until our legislature respects our lives and says that harm to us is wrong. It is long past time to add the four words "sexual orientation" and "gender identity" to our state non-discrimination laws."
---
---