Tue., Feb. 25, 2014
Goedde: Dump WiFi contract, send the money to school districts for own WiFi systems
Senate Education Chairman John Goedde, R-Coeur d'Alene, wants the state to cut off a five- to 15-year sole-source contract with Education Networks of America to set up WiFi networks in every Idaho high school, and instead send the $2.25 million a year in funding out to school districts to contract for their own WiFi networks. "That was a multi-year contract signed with one year's funding," Goedde said. "I'm really comfortable with a non-appropriation on that, and then I would like to see the money sent down to school districts with a standard, saying the money is theirs to invest in wireless. Anything left over after they meet that standard, they could use for other technology."
Like all state contracts, the WiFi contract that state schools Superintendent Tom Luna signed with ENA in August includes a clause saying if the Legislature doesn't appropriate funds, the contract is void.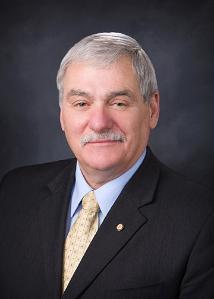 Goedde said he has talked with Joint Finance-Appropriations Committee members and other lawmakers about the change of course, and plans to pursue it both through JFAC action and through legislation in his Senate Education Committee. "The non-appropriation I think would be through the budget committee," Goedde said. "The reallocation, from my perspective, would be a policy decision," so the Senate and House education committees could consider legislation on that.
Goedde said the contract that Luna signed last summer – based on a one-year, $2.25 million appropriation for high school wireless networks that JFAC had included in the public school budget for this year – is installing equipment throughout the state that doesn't meet a new WiFi standard that just went into effect in January. "And that equipment's going to be in place for five years, under the contract," he said.
"I believe that there are districts in this state that have the technological expertise and could deploy the wireless equipment on their own, not need the help-desk service, and probably could buy the equipment for less than they're leasing it for," through the ENA contract.
Other smaller districts may need a full-service package like ENA's, he said, but ENA is not their only option. "There may be other businesses locally that could provide a comparable package and have it competitively bid," Goedde said. "It's very possible that they could save money … and employ more Idaho people."
Goedde said a key part of his plan is to include a WiFi standard that all the districts would have to meet when they spend the state funds. That would ensure quality service, he said, without a need for a statewide, sole-source contract.
ENA is based in Nashville, Tenn., and also has a Boise office; ENA officials at both locations didn't respond to calls today from a reporter seeking comment.
---
---