Newest senator sworn in, session ready to start today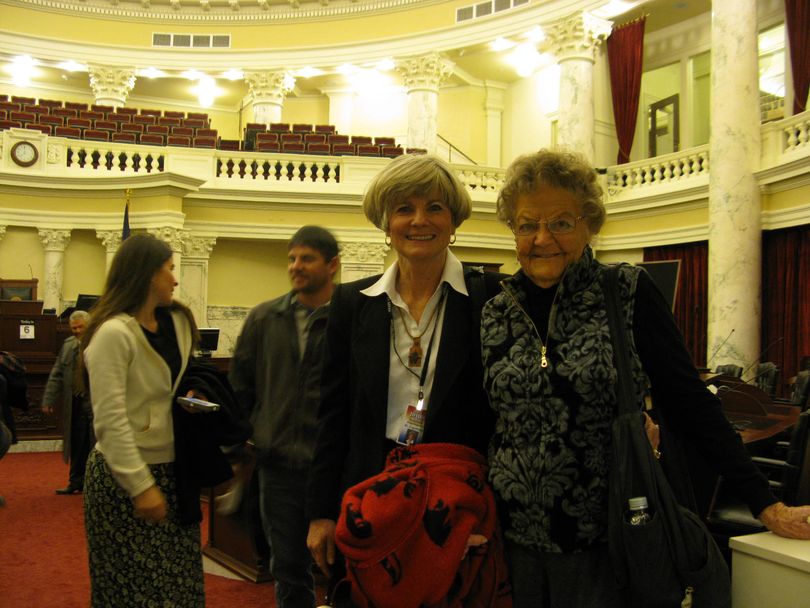 The Idaho Senate's newest member, Sen. Janie Ward-Engelking, D-Boise, was sworn in this morning, as the legislative session kicks off today; here, she's shown leaving the Senate chamber after the ceremony with her mom, Eloise Ward, and other family members. Ward-Engelking, formerly a state representative, was appointed to the Senate seat opened by the resignation for Sen. Branden Durst, D-Boise.
Both houses will convene at noon Mountain time, and then Gov. Butch Otter will give his State of the State and budget message to a joint session, in the House chamber, at 1 p.m. The speech will air live on Idaho Public TV's "InSession" live streaming service, and also on numerous TV stations in the Boise area; in it, Otter will lay out his agenda and budget priorities for the session. The speech also marks the release of the details of his budget proposal for the coming year.
Here's a link to my Sunday advance story on the session, "Idaho's 2014 legislative session underscored by election," and here's a link to my Sunday column, on substitute lawmakers, Otter and legislative leaders pledging to defend the state's ban on same-sex marriage, and the economic outlook. Click below for a preview of the session and its issues from AP reporter John Miller, headed, "Gov. Butch Otter puts legislative focus on schools."
You can read the Twin Falls Times-News' legislative preview here, which is headed, "Serious issues ahead, major changes unlikely." Today's Idaho Statesman offers "Business lobbyists ready legislative wish lists," and on Sunday, Statesman reporter Dan Popkey reported on political pressures on lawmakers as the session gears up, in an article entitled, "Health exchange vote a 'tipping point'? Many GOP incumbents who joined Gov. Otter to favor a state-run plan expect primary challenges from the right."
Idaho Education News reporter Clark Corbin has a report here entitled, "Education set to be defining issue of 2014;" and Lewiston Tribune reporter Bill Spence reported in Sunday's Tribune, "The health exchange fight badly scarred the Republican caucus – and given the likelihood that voting in the May 20 primary will be dominated by the true party faithful, the 44 Republican incumbents who voted for the exchange could be vulnerable. Consequently, party leaders seem inclined to tiptoe through the 2014 session as quietly as possible, without taking up any potentially explosive topics that add to existing tensions." Boise State Public Radio has a look ahead here, entitled, "Education, healthcare likely hot topics during 2014 Idaho Legislature."
Gov. Butch Otter puts legislative focus on schools
By JOHN MILLER, Associated Press
BOISE, Idaho (AP) — Idaho Gov. C.L. "Butch" Otter says he will use the upcoming legislative session to begin establishing a five-year plan to boost public education spending, fulfilling a promise to restore funding to the state's K-12 system that took deep cuts during the Great Recession.
Otter spoke about his agenda and budget goals during an annual Associated Press legislative preview gathering. He offered few specifics, however, saying more details would emerge Monday during his State of the State address, which will start the session and help shape a rough outline of what he wants accomplished through 2019.
"The first year will be written in ink," the Republican governor told reporters at the Capitol on Friday. "The next four will be written in pencil."
Otter said his education plans will reflect findings of a task force that last year came up with 20 recommendations, which have won bipartisan support but come with a $350 million price tag that will make it difficult to fund them all.
The suggestions include increasing minimum teacher salaries from $31,000 to $40,000 a year and restoring $82.5 million in operational revenue that school districts have lost since 2008.
Democrats say they're optimistic about Otter's education promises, at least in advance of the Legislature.
"That helps pave the way for more progress than we've seen in the past," said Senate Minority Leader Michelle Stennett, D-Ketchum.
"Of course, the devil is always in the details," she added.
Democrats and Republicans have sparred over education in the past, notably in 2011 during the fight over GOP Superintendent of Public Instruction Tom Luna's "Students Come First" overhaul.
House Speaker Scott Bedke, R-Oakley, says the economy's growth should make it easier to provide schools with more money.
"We will have some new money to plow into these programs this year, particularly in the form of education," Bedke said.
Through November, state revenue increased by 5.6 percent compared to the same period in 2012.
Otter's talk of increasing education funding comes during an election year. If he survives the GOP primary against state Sen. Russ Fulcher in May, Otter would likely face Democrat A.J. Balukoff, Boise School Board chairman, in November.
During Otter's recession-plagued time in the state's top office, public education has been subject to hundreds of millions of dollars in cuts. Some of the cuts have been restored, but the education budget remains more than $100 below its peak five years ago.
He has also became vulnerable on the issue when the "Students Come First" overhauls he championed with Luna were rejected resoundingly in 2012 by voters.
Balukoff, a multimillionaire Boise businessman, helped finance the opposition campaign.
Otter on Friday pledged to defend Idaho's "Common Core" standards in math and English language arts — new classroom metrics meant to promote critical thinking skills and provide a clearer picture of what students are expected to learn to guide parents, educators and other school officials as they prepare kids for life beyond the classroom.
Idaho lawmakers agreed to participate with other states in 2011, but Common Core has since come under attack from conservatives in the state Legislature — including Fulcher — who contend, among other things, that the standards will undermine school district's local control of what's taught in their classrooms.
Otter says he's not backing down from Common Core, which he says will help ensure that Idaho students are ready for college and can compete against students from other states and countries.
"I'm supporting it," he said, calling Common Core "the right thing to do."
Other likely themes for the upcoming 2014 Legislature include:
— ELECTION-YEAR POLITICKING? Senate President Pro Tempore Brent Hill isn't ruling them out. "Yes," he answered, when pressed about whether he expected lawmakers — from either side of the aisle — to introduce politically motivated bills designed to help them gain credibility among constituents in the primary election come May 20.
— GAY MARRIAGE FIGHT: Bedke favors stocking up a fund aimed at defending Idaho's Constitution from challenge after four same-sex couples in November sued the state over its 2006 ban on gay marriages. Democratic House Minority Leader John Rusche, D-Lewiston, opposes the move, contending it's a losing cause akin to "holding back the tide."
— RAINY-DAY ACCOUNTS: Republicans are putting plenty of emphasis on restocking Idaho's rainy-day accounts, saying the $400 million Idaho had set aside at the start of the recession came in handy as tax revenue plummeted with the withering economy. The funds now stand at about $200 million. Stennett, the Democratic Senate leader, said she's sympathetic to Otter's urge to fill up Idaho's piggy bank further — but not at the expense of programs that grow Idaho's economy and boost wages. "There has to be a threshold," Stennett said. "If we do not improve our education, our infrastructure and our wages, our economy is not going to improve."
— HIGHWAYS — DOWN THE ROAD? Otter says he doesn't want to raise taxes or fees to cover a $260 million road and bridge maintenance backlog without consensus. Increasing the gas tax or slapping new registration fees on automobile owners would be politically risky for the GOP to pass without Democratic support in an election year.
— WATER PRIMACY: Bedke backs the Idaho Department of Environmental Quality taking over water-quality regulation in the state from the U.S. Environmental Protection Agency — and wouldn't discount the possibility of a bill pushing such a move during the 2014 session. However, Rusche said the push would require expanding state government — adding dozens of employees, at a cost of $7 million annually, according to Idaho estimates in 2009 — that have stalled such efforts in past.
— PRISON REFORM: Otter, with House Judiciary Committee Chairman Rich Wills and Senate Judiciary Committee Chairman Patti Ann Lodge at his side, said Idaho can save money by releasing nonviolent offenders. Lawmakers seemed onboard. "We have an opportunity here to save the people of Idaho millions of dollars and provide a better service to those who are incarcerated, if you can call that a service," said Senate President Pro Tem Brent Hill, R-Rexburg.
Copyright 2014 The Associated Press
---
---