Lawmakers expressing deep reservations over relying on salary savings for state worker raises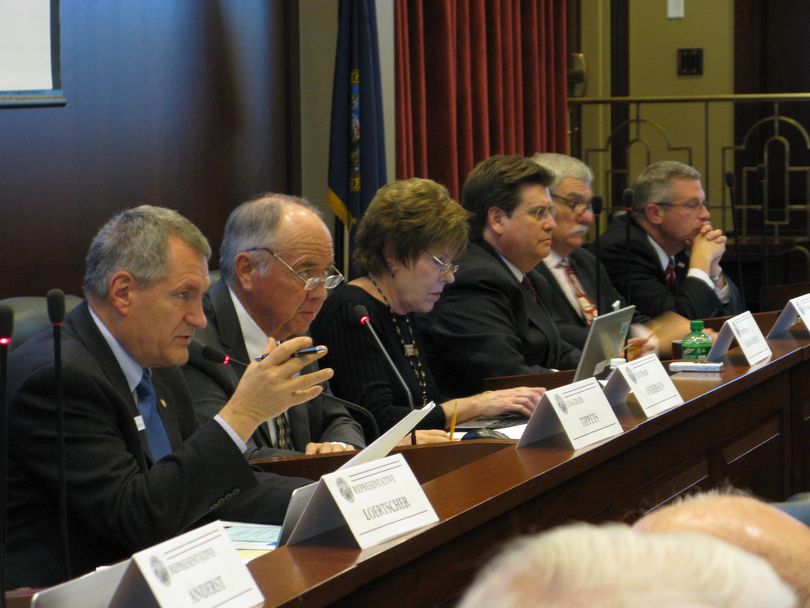 Like members of the Joint Finance-Appropriations Committee before them, the Legislature's joint Change in Employee Compensation Committee this afternoon is expressing deep reservations about Gov. Butch Otter's proposal to again provide zero funding for state employees next year, and instead rely on salary savings within agencies to give out any raises.
"There's an incentive, then, to do things like maintaining vacancies as long as possible," said Sen. John Tippets, R-Montpelier, shown here speaking at left, co-chairman of the committee. "There's an incentive then to create new positions to provide the opportunity to give someone a promotion to a higher level of responsibility, so that again, there's justification to reward them. So you … start to erode your formal system you have for compensation, and these other informal processes start to encroach on your system."
Jani Revier, Otter's budget chief, defended the governor's proposal. "I think that the recommendation is a good recommendation and I stand behind it, but we do need to continue to look at those issues and make sure that the state does address them and that the funds are adequate to do so," she told the CEC Committee.
Under questioning from Co-Chair Rep. Neil Anderson, R-Blackfoot, Revier acknowledged that state employee pay is falling short of market rates – this year's official state human resources report says it's now fallen 19 percent below market – but said she thought benefits and working conditions made up for that. "I feel that we are in compliance," she said. "The state has a very generous benefit package, and the benefits can outweigh the higher pay." Plus, she said state employment offers "quality of life issues" like overtime pay and flex hours.
However, this year's state compensation report states, "Wages for state employees lag the private sector by an average of 29 percent and trail the surrounding states by an average of 10 percent. HayGroup concluded that the higher benefits program value does not offset the below-market wages, and therefore results in a total compensation program below the market average in both the private and public sectors."
Legislative budget director Cathy Holland-Smith said, "Salary savings are one tool of the pay system, always have been." But she said based on her analysis of state agencies' use of their personnel budgets, "I don't see ongoing personnel savings there. … Being maximized as they are now, they are not going to grow in the future. … I don't believe it is sustainable."
---
---