Far-reaching justice reinvestment plan unveiled; watch live…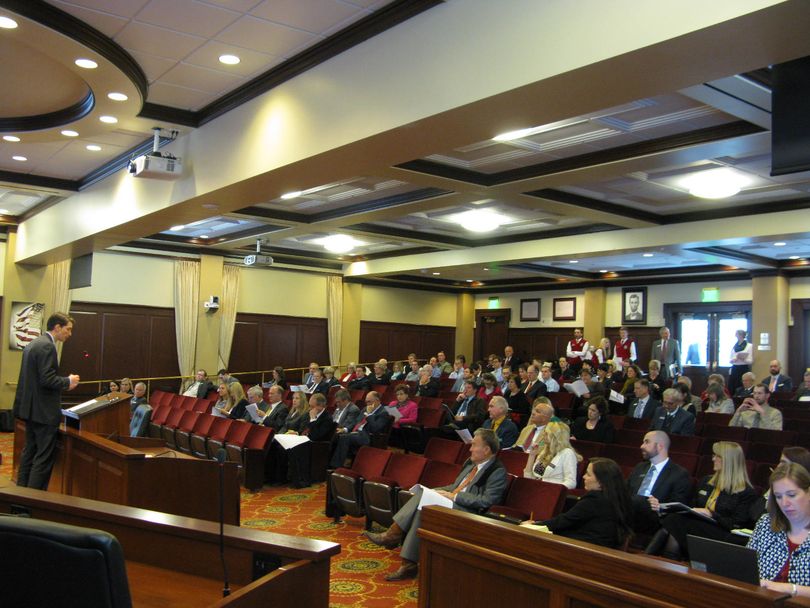 More than two dozen legislators are among the audience in the Lincoln Auditorium this afternoon for the presentation on the justice reinvestment project; you can watch live here. The Council of State Governments and the Pew Trusts have worked with all three branches of Idaho's state government to analyze why the state has the nation's 8th highest incarceration rate and rising recidivism, though it has one of the lowest crime rates, and what can be done to improve the system.
"What's great is that states know more now than at any time in history about what works to reduce recidivism," Mark Pelka, head of the CSG's Justice Center, told the group.
Months of intensive research, starting last June, along with meetings with the state's district judges, prosecutors, sheriffs, victim advocates, police chiefs, agency heads and others, led to a report that was unanimously approved yesterday by a legislative interim committee; now, legislation is in the work to carry out the recommendations in the report.
Three major challenges were identified: A revolving door of recidivism, including parolees and probationers who return to prison; inefficient use of prison space, including delays in parole releases and lengthy prison stays for non-violent offenders; and insufficient oversight, including a system to track outcomes to assure strategies work. "You're spending more to respond to recidivism than you are to prevent it in the first place," Pelka said.
An array of improvements to treatment, supervision, parole and probation procedures, restitution and data systems are recommended in the report, which estimates that an investment of $33 million toward those reforms over the next five years will save the state more than $255 million on prison costs.
---
---