Mon., Jan. 27, 2014
Luna won't seek re-election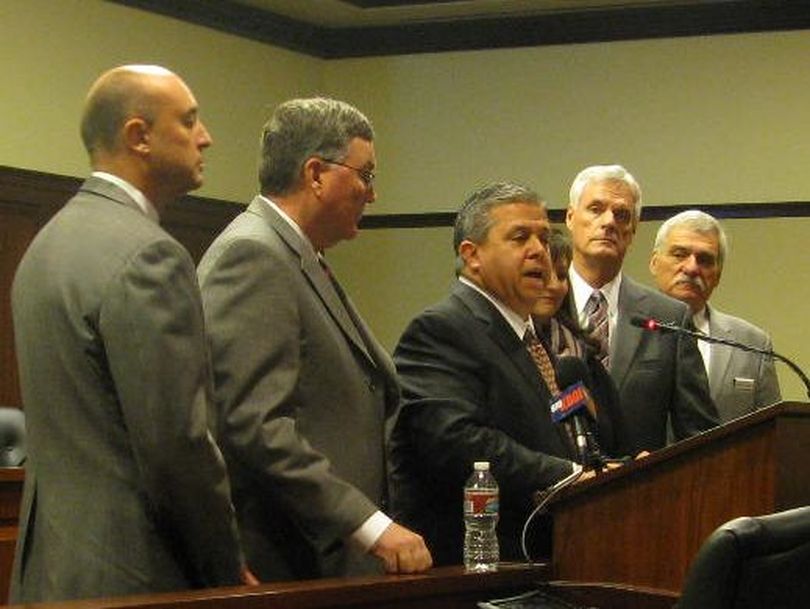 Idaho state schools Superintendent Tom Luna will not seek a third term, he announced this morning, saying he wants to take politics out of the process of putting into effect bipartisan school reforms recommended by a state task force. "I know it's the right decision for me, for my family, and I know it's the right decision for the children of Idaho," Luna said. "I've never avoided a fight. I've always done what I thought was right."
Luna was joined for his announcement by House Speaker Scott Bedke and Senate President Pro-Tem Brent Hill, along with House Education Chairman Reed DeMordaunt and Senate Education Chairman John Goedde, all Republicans, along with Luna's wife Cindy.
Two other Republican candidates, Randy Jensen of American Falls and John Eynon of Cottonwood, already have announced their candidacies in the GOP primary for superintendent; Democrat Jana Jones, whom Luna narrowly defeated in 2006, also is running for superintendent. Luna said he's not yet endorsing anyone for the post. "I will tell you that the person I will support is the person who stands up and boldly proclaims their support for all 20 recommendations of the task force and their commitment to get them implemented," he said.
Luna said, "I'm going to be working hard for the next 11 months, not being distracted with a campaign and everything that goes into that." He said it was "obvious to me that bipartisan support is fragile," and people might think anything he does to support the task force recommendations is meant to "give me a leg up in the election. … So I wanted to take that off the table." He said, "You won't see me on a ballot anywhere in Idaho in this upcoming election."
---
---