Ground broken for project that includes two long-sought downtown Boise goals, plus new office tower…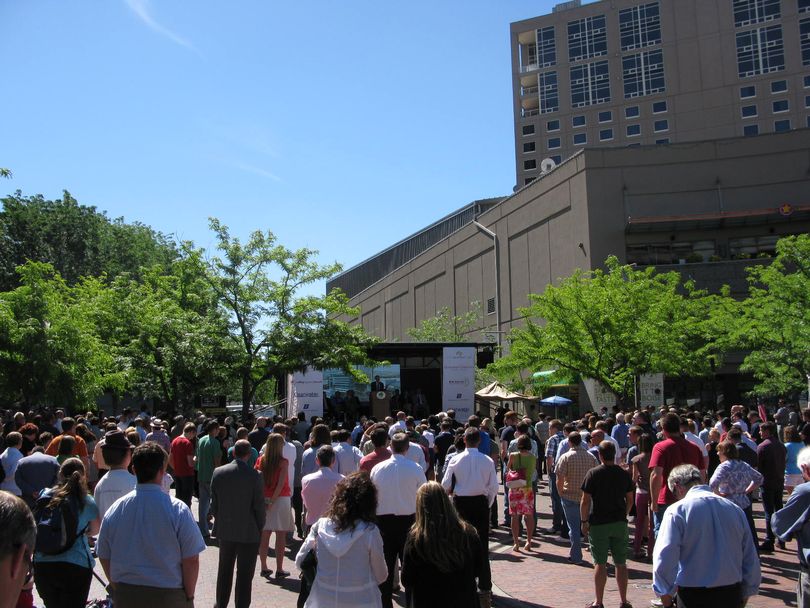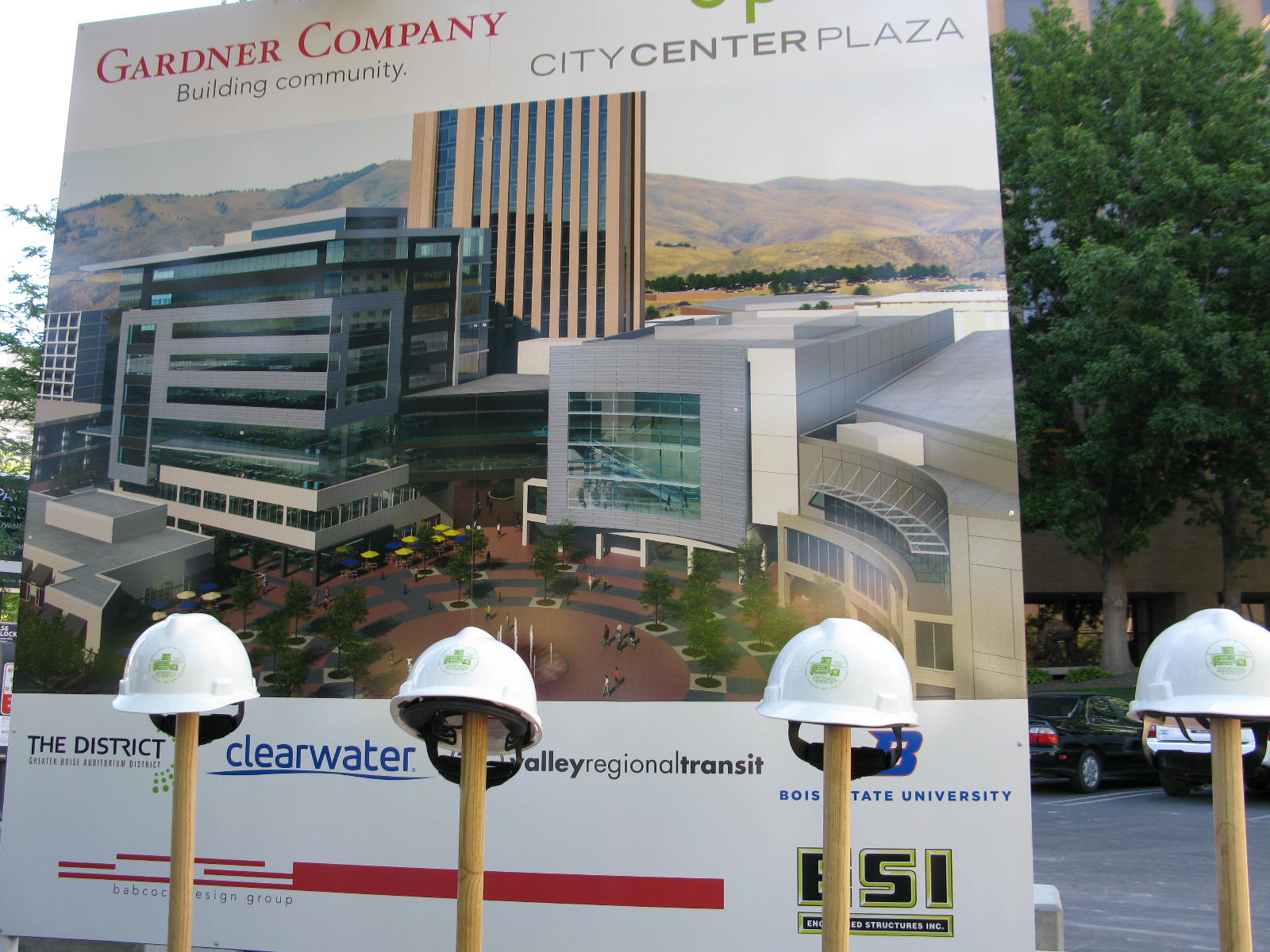 The ambitious City Center Plaza project, which includes a new tech-focused nine-story office building, a new underground multi-modal transit center, and a major convention center expansion all in the heart of downtown Boise kicked off with a groundbreaking today, where business and government leaders hailed the public-private partnership. "It's certainly something that the capital city needs," declared Gov. Butch Otter, who also joked that he was grateful for "you guys getting me off the hook, because the transit center was going to go right at the corner of 8th and Jefferson at one time." That's kitty-corner across from the state Capitol. "The Land Board was against it, the Legislature was against it," he noted.
Boise Mayor Dave Bieter said, "Folks, this is a day of gratitude. … I want to express my gratitude to the Legislature, the Land Board and the governor, for turning down a really good project – so we could get to an even better project."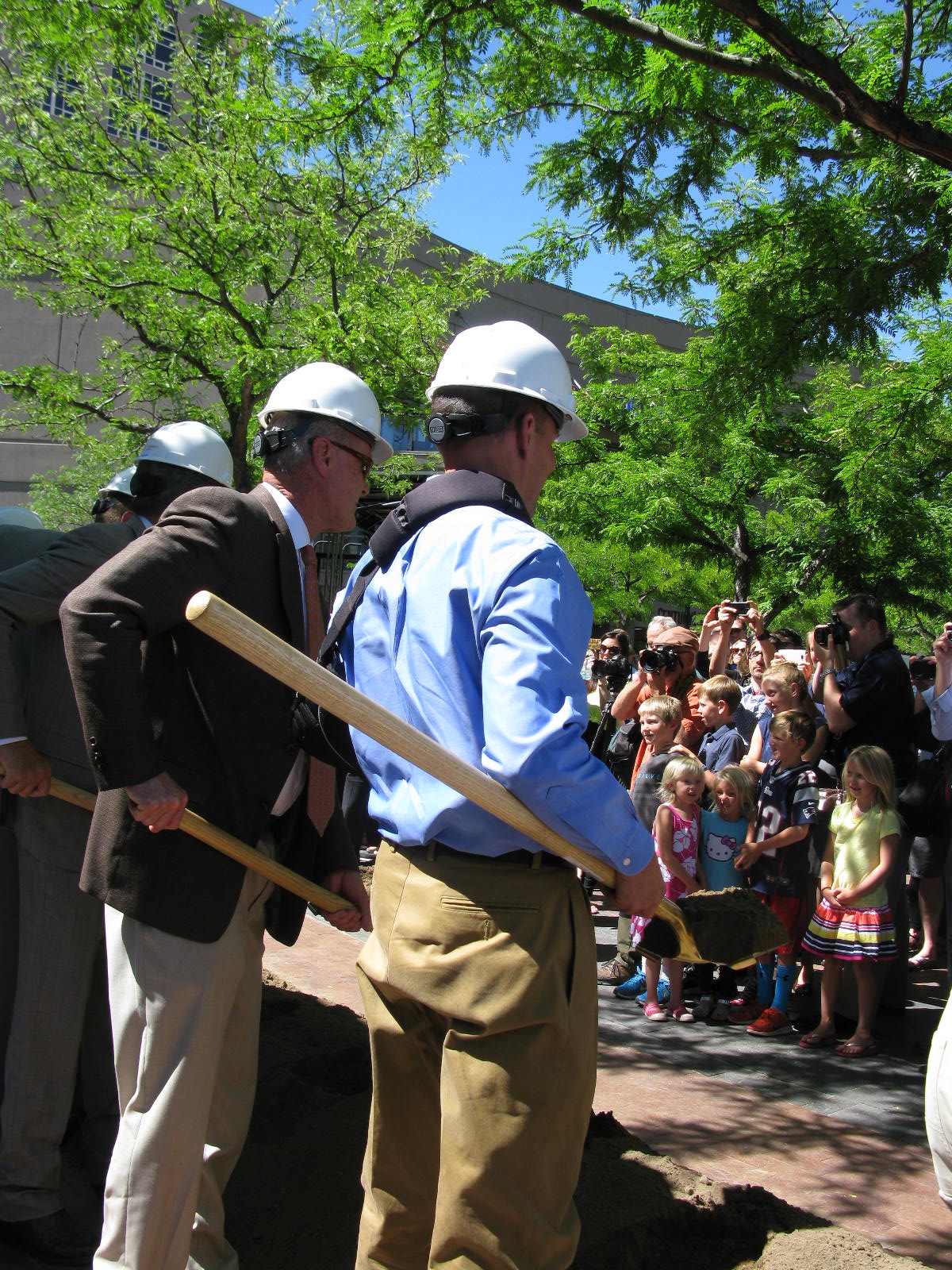 The new Clearwater Building will be a technology-focused office tower that will include the Boise State University computer science department, which will take up the second and third floors; headquarters for Clearwater Analytics, a software firm that will occupy five floors; and restaurant and retail space. The Boise Center convention center will see its current meeting and event space nearly double. The transit center below will be a hub for ValleyRide buses, park-and-ride, vanpools, carpools, shuttles, taxis and more. The whole project, put together by Gardner Company, which recently completed the 8th & Main building just across Main Street, will cost $45 million and is scheduled to open in mid-2016. "We love Boise – we love the state of Idaho," Christian Gardner, Gardner Co. president and CEO.
The 8th & Main Building filled a gaping hole in Boise's downtown core that had stood vacant since the historic Eastman Building burned in 1986, despite repeated, failed attempts to develop the site. Now, the City Center Plaza project is taking on two more long-planned but long-unrealized downtown goals: Convention center expansion, to allow Boise to host larger conventions for which is currently doesn't have large enough facilities, and a transit center. David Zaremba, a board member with Valley Regional Transit, said, "We've looked forward to a day like this for a long time."
Tommy Ahlquist, Gardner Co. chief operating officer and head of the firm's Idaho operations, invited the big crowd at the groundbreaking to stay on this afternoon for the USA vs. Belgium World Cup soccer game, for which the company is hosting a public viewing party in the Grove plaza complete with a giant TV screen and beer garden. "We are pleased to bring together so many great organizations with a common vision for our downtown," Ahlquist said. "City Center Plaza will anchor and transform the heart of the city for decades to come."
---
---