Wildfire smoke arrives in Boise, likely to stick around for 'a couple of weeks'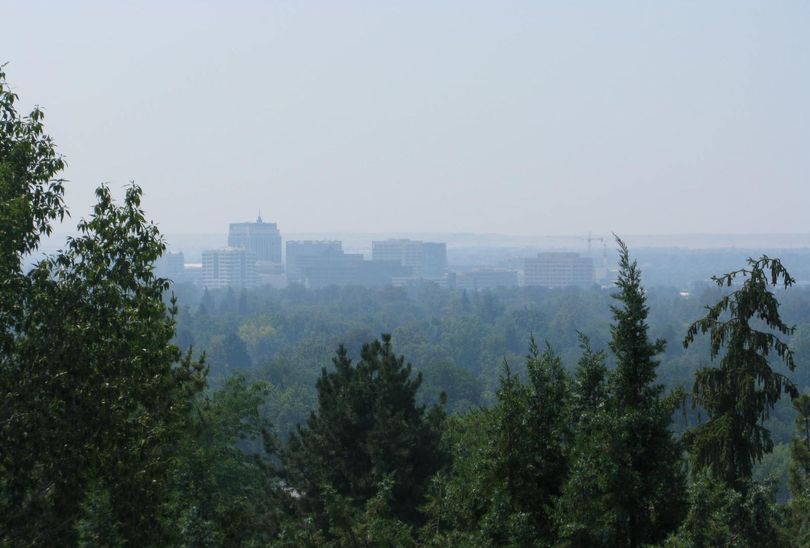 The familiar scent of wildfire smoke began wafting into town yesterday, and today it's noticeably smoky in Boise. Smoke from the Whiskey Complex of fires in the Garden Valley area, along with some from fires in Oregon, filtered into the Treasure Valley overnight, and higher-level air flows are bringing in smoke from fires in Idaho, Oregon, Washington and Canada. "We seem to be getting a significant amount more smoke in the valley than we anticipated," said Mike Toole, regional airshed coordinator for the Idaho Department of Environmental Quality.
And here's the bad news: Tomorrow likely will be worse, and it'll stick around. "We're definitely going to have these smoke impacts lingering for the foreseeable future," Toole said. "It could be a couple of weeks. … Just with the sheer amount of fires and where they're located, we could be seeing smoke impacts for quite a while."
Idaho City and Garden Valley hit red alert levels for air quality due to wildfire smoke today; that's defined as unhealthy for everyone. Boise's air quality was registering in the good-to-moderate range at mid-day; Idaho City was in the red zone. See real-time air monitoring online here from the Idaho DEQ; and smoke forecasts here. Tomorrow is predicted to be in the moderate range in Boise; the forecast warns that high-level smoke likely will settle in the Treasure Valley this evening after the sun sets. "We're going to kind of see the same thing for a while," Toole said.
---
---