Fri., June 13, 2014
Committee meetings kick off at GOP confab amid noise, confusion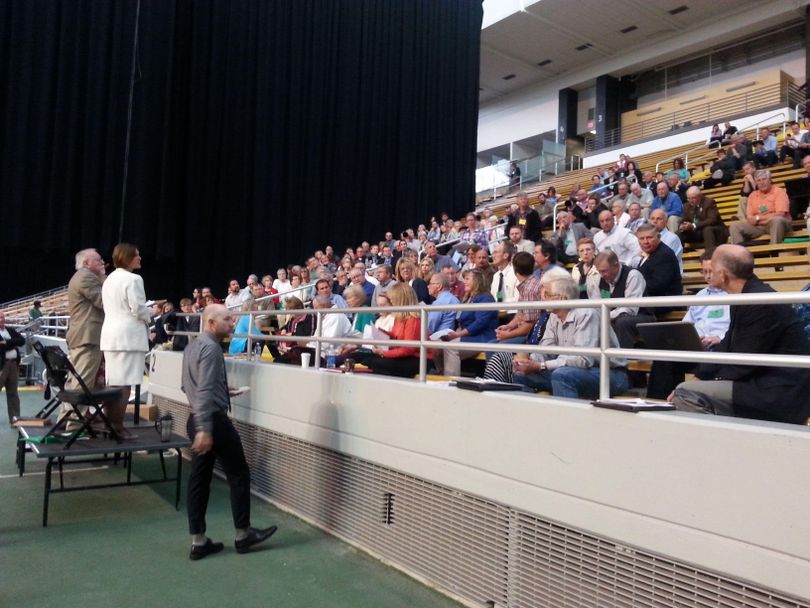 There are more spectators than committee members at the Credentials Committee meeting this morning at the GOP convention in Moscow in the Kibbie Dome, reports Melissa Davlin of Idaho Reports. In the cavernous stadium, "Everyone is having trouble hearing, and there has been some confusion," she reports.
The panel has started with challenges to individual delegates, before taking up the big challenge to the entire Ada County delegation to the convention. . One of the alternates from Legislative District 1 was challenged because he didn't turn 18 until June 5, and he was nominated for an alternate in late May, Davlin reports; another was challenged because she had registered as unaffiliated instead of Republican in the primary. The committee voted to disqualify both of them.
Four committees are meeting at the convention this morning; in addition to the credentials committee, there are the committees on resolutions, platform and rules. Proposed changes include everything from altering the current closed primary, to dumping a platform plank advocating repeal of direct election of U.S. senators, to calling for mandatory Bible study in public schools.
---
---