Luna announces tech grants to 15 schools, says statewide effort still needed on school tech
Idaho state schools Superintendent Tom Luna today announced the 15 schools throughout the state that will receive a share of $3 million in technology grants for pilot projects next year, but noted that 99 schools applied for the grants, and if they'd all gotten what they sought, the total would have been more than $26 million; you can read my full story here at spokesman.com. "I think the answer has to be a statewide effort, and I think you have to tap into the economy of scale in order to make this available for all," Luna said. "I think what we've demonstrated through the pilots is that there is a demand for one-to-one environments … in the classroom."
Many, but not all, of the successful grant applicants plan to use the money to provide every student with a high-tech device, whether it's a Chromebook, an iPad, a laptop computer or a combination of school-provided and bring-your-own devices. Luna's signature "Students Come First" plan, which voters rejected in 2012, sought in part to provide every high school teacher and student in the state with a laptop computer.
Luna noted that the technology already has changed significantly since he made his proposal. "I still believe that there has to be a statewide solution, or we just create winners and losers," he said. But he said that could take a variety of forms, from providing more per-student funding to school districts for technology to offering several state-level contracts that districts could access at their option to take advantage of economies of scale. "This demand is not going to go away, whether I'm here or anyone else is here," said Luna, who is leaving office when his second term ends at the end of the year.
A roomful of excited school officials from throughout the state was at the State Department of Education offices today to receive the grant awards. They range from a high of $516,619 for South Middle School in Nampa, which will use the money to purchase computers, Apple TVs, projectors, I-Pads for every teacher, video technology for classrooms, and to open school two to three nights a week to allow parents and students at the large, largely low-income school to come in and work online with a teacher's help; to a low of $14,825, for Meridian Technical Charter High School, to offer 25 students with difficulties associated with the autism spectrum access to brain games on iPads designed to enhance their learning.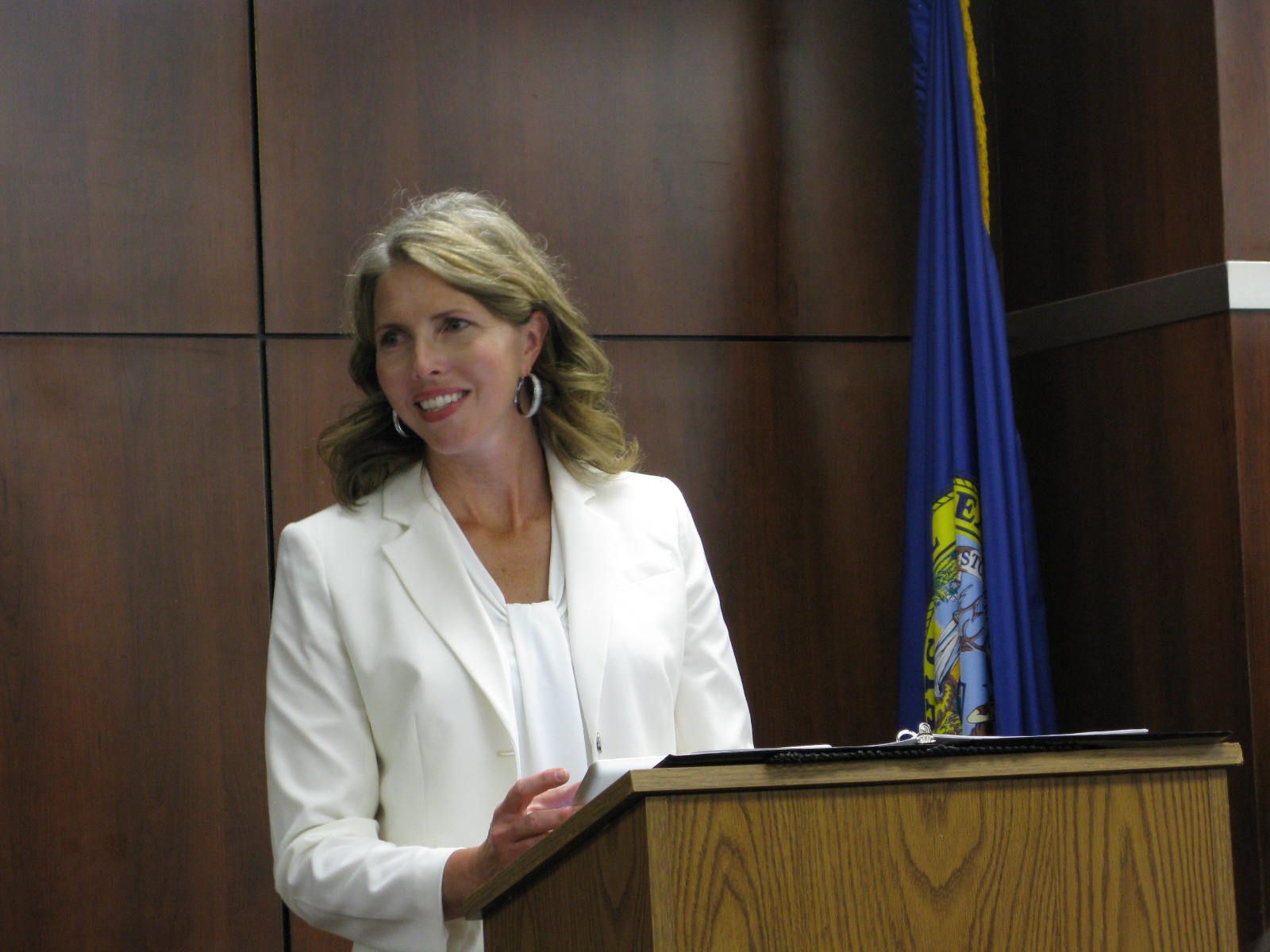 Kathy Baker, principal of Ponderosa Elementary School in Post Falls, said her school will use its $250,000 grant to "gamefy" learning by allowing students to work individually and earn digital badges when they move up to higher levels; the gaming will revolve around the Idaho Core Standards and include reading, writing and math, with options both for those who struggle and for advanced learners. The project includes Chromebooks and accessories. "We're just thrilled to pieces," Baker said. "We know that we have to do something different for kids."
Forrest M. Bird Charter School in Sandpoint is getting $317,516, and will provide a laptop computer for every student and teacher, grades 6-12, iPads for special education classes, projection presentation systems and training. Mary Jensen, education leader at the school, said, "We're just really excited for being able to innovate in our classrooms through the use of technology."
Cascade Junior-Senior High School will use its $38,094 grant to integrate school-provided Chromebooks with students' bring-your-own devices to bridge the "digital divide" between its lower and higher income students. Fruitland Elementary School will expand a pilot project that used iPads in second-grade classrooms school-wide, with its $345,230 grant. Lapwai Middle-High School's $32,986 grant will provide a high-tech projection system in every classroom to turn regular white boards into interactive learning surfaces. Mullan Trail Elementary's $204,465 grant will install and enhance WiFi and network infrastructure, purchase Chromebooks, tablets, management systems and accessories, to turn the elementary school into a "Google School," where allow students and teachers can use apps to interact as they work on documents. Click below for a full list of the grant recipients.
Bickel Elementary School, Twin Falls, $168,377
Cascade Junior-Senior High School, $38,094
Centennial Elementary School, Lewiston, $67,708
Forrest M. Bird Charter School, Sandpoint, $317,516
Fruitland Elementary School, $345,230
Idaho Arts Charter, Nampa, $205,605
Lapwai Middle-High School, $32,986
Malad High School, $223,027
Meridian Technical Charter High School, $14,825
Mountain View Middle School, Blackfoot, $186,323
Mullan Trail Elementary, Post Falls, $204,465
Ponderosa Elementary School, Post Falls $249,910
South Fremont High School, $100,845
South Middle School, Nampa, $516,619
Vallivue Middle School, Vallivue School District, $328,470
---
---