Thu., March 13, 2014
Balukoff comes out against guns-on-campus bill, privatizing prisons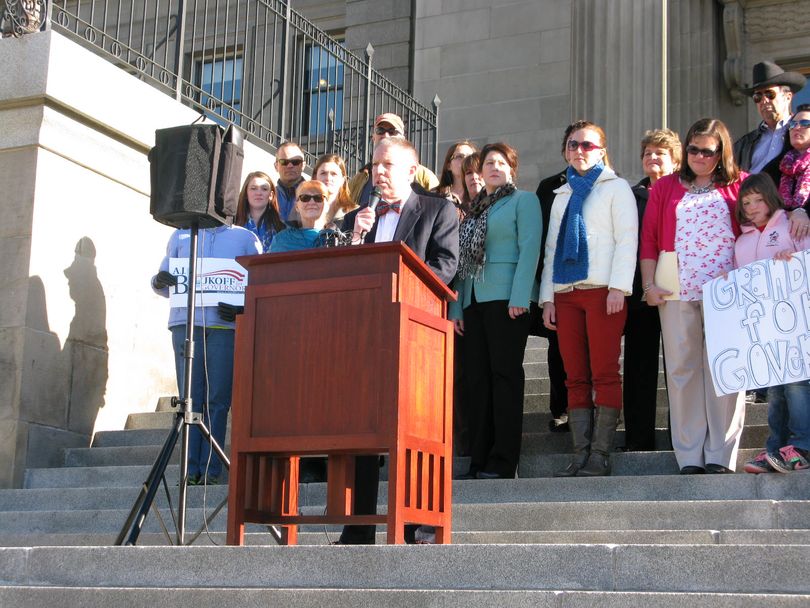 Democratic candidate for governor A.J. Balukoff spoke out today against the guns-on-campus bill that Gov. Butch Otter signed into law yesterday, saying, "That's a solution looking for a problem. It was totally unnecessary, and I think the process to pass that was just as flawed as the bill." Balukoff, the chairman of the Boise School Board, said, "It was an erosion of local control. … It's also an unfunded mandate to our colleges and universities, who are already struggling to make ends meet."
Balukoff's comments came in response to reporters' questions as he held a news conference on the Statehouse steps today to note that he and running mate Bert Marley have filed their candidacy papers; Marley, a former Democratic state senator and longtime teacher, is running for lieutenant governor.
"State government continues to focus on issues that polarize and divide people rather than bringing us together," Balukoff said. "Most of the issues they've dealt with in this legislative session will have very little practical impact on most Idahoans, but they take time and energy and resources away from the important issues, education and our economy."
Balukoff also was asked about the Corrections Corp. of America, which operates Idaho's largest state prison, but the state is now taking it back over amid scandal and lawsuits. "I'm glad that the FBI is doing an investigation," Balukoff said. "I think that we'll be better off running our prisons internally, instead of contracting that out to for-profit companies. It just doesn't sound right to me to make profit off of a prison system. It's more than warehousing people. We should be educating, rehabilitating those people so that they can return to society, support their families and be productive members of our communities."
In addition to Balukoff, Terry Kerr of Idaho Falls filed to run for governor as a Democrat this week, though he's run for local office as a Republican in the past. GOP candidates who have filed thus far include incumbent Gov. Butch Otter; Senate Majority Caucus Chairman Russ Fulcher, R-Meridian; and perennial office-seeker Harley Brown of Nampa. The filing deadline is tomorrow.
---
---