Wed., May 14, 2014
GOP rivals for Secretary of State blast perceived front-runner McGrane in debate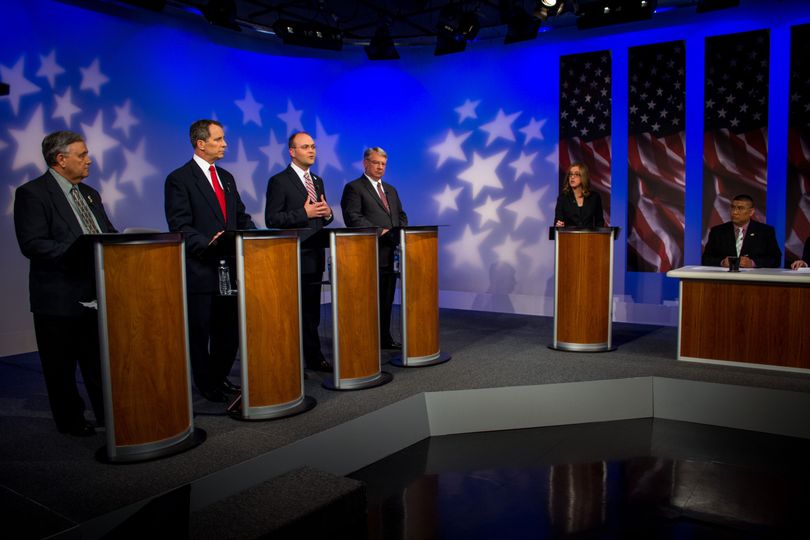 Among the four GOP candidates facing off for the chance to become Idaho's next Secretary of State, the three with experience in elective office made it clear in a televised debate last night that they see the one who lacks that as the front-runner.
Former House Speaker Lawerence Denney and former state Sens. Evan Frasure and Mitch Toryanski heaped criticisms on chief deputy Ada County Clerk Phil McGrane, the youngest candidate in the race and the one who's been endorsed by retiring Secretary of State Ben Ysursa and many of Idaho's 44 county clerks. "I didn't accept any endorsements from (county) clerks," Frasure said. "I think it's inappropriate. … They are the referees. They need to stay out of partisan elections, clerks do." County clerks, who oversee elections in their counties, are partisan elected officials in Idaho.
Toryanski said, "Unfortunately, Mr. McGrane put them in a very bad position. He persuaded them to use their position and their title to support his campaign," while also advocating that the Secretary of State be fair and non-partisan in handling elections. "Phil says one thing but when it benefits him, he does another, and that bothers me," Toryanski said.
McGrane responded, "I'm honored to have the support of Secretary of State Ben Ysursa and the majority of the clerks throughout the state." He said, "It's because of the great people who oversee this system that we put so much faith in it."
The debate, sponsored by the Idaho Press Club and the League of Women Voters of Idaho and broadcast statwide on Idaho Public Television, was part of the "Idaho Debates" leading up to Tuesday's primary election. During the hour-long debate, McGrane took heat from his rivals for everything from his concerns about the closed primary to whether it's better to making voting easier. You can read my full story here at spokesman.com, and see the full debate here at idahoptv.org.
Tonight is the final installment of the Idaho Debates: The sole debate in the GOP primary race for governor, with Gov. Butch Otter, Sen. Russ Fulcher, Harley Brown and Walt Bayes all scheduled to appear.
---
---