Wed., May 14, 2014
Quite the debate for governor…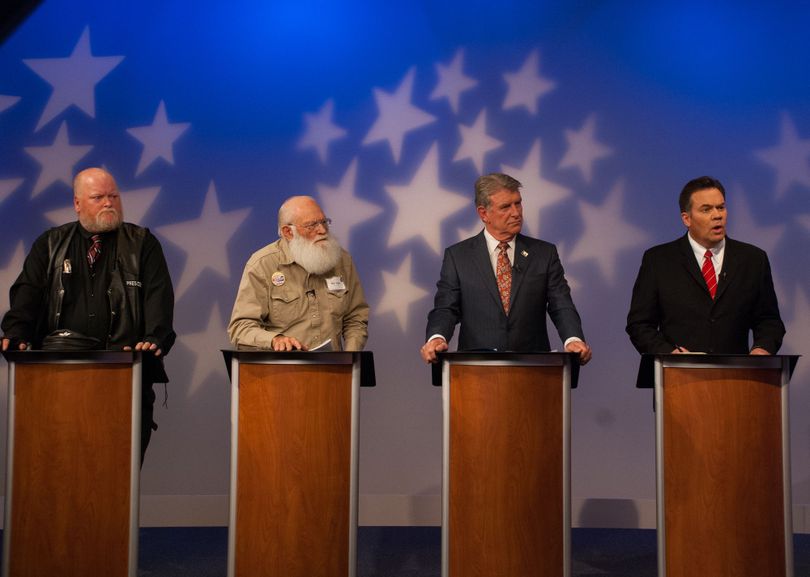 That was quite the debate on Idaho Public TV tonight, with some spirited back-and-forth between Gov. Butch Otter and primary challenger Russ Fulcher on the issues, and wacky weirdness from the two other candidates, Harley Brown and Walt Bayes.
Here are excerpts from each of their closing comments:
OTTER: "I've experienced a lot as your governor, and I'm putting all that I've experienced to work every day to improve on how I do my job of serving you. … I'm honored to have been through the refining fire with you, and I'm excited about continuing to face the challenges of today and tomorrow."
FULCHER: "I ask you to ask yourself: Are you better off today than you were eight years ago? If you're like most of us, the answer is no. It's time to shake up the establishment."
BROWN: "You have your choice, folks: A cowboy, a curmudgeon, a biker, or (looking over toward Fulcher) a normal guy. Take your pick. … We're leaving it up to you."
BAYES: "Butch, I'd like to thank you for making it possible for me to be here tonight. He kinda insisted that me and this un-normal person (gesturing to Brown) could be here tonight."
Click below for a report on the debate from the Associated Press. Idaho EdNews reporter Kevin Richert has a report here; you can watch the debate online here. KTVB-TV's Jamie Grey reports here on how each candidate responded to the same-sex marriage ruling.
Candidates in Idaho's GOP race for governor debate
BOISE, Idaho (AP) — Four candidates vying for the Idaho GOP gubernatorial nomination faced off Wednesday evening in their only scheduled debate, tackling the economy, state control of federal lands and the Affordable Health Care Act.
Two-term Gov. C.L. "Butch" Otter is challenged by state Sen. Russ Fulcher, Walt Bayes and Harley Brown.
"Folks, you have a choice: A cowboy, a curmudgeon, a biker or a normal guy. Take your pick," Brown told the Idaho Public Television audience, referring to Otter, Bayes, himself and Fulcher respectively.
Otter and Fulcher, who is the Senate Republican Caucus leader, are widely considered the main contenders for the nomination, while perennial candidates Bayes and Brown are considered more colorful outliers. But Otter insisted that all the GOP candidates be included, a move prompting thanks from Bayes.
Fulcher used his time to criticize Otter's decision to create a state health care exchange under the federal Affordable Health Care Act, and contended that the governor had increased Idaho's dependency on a bankrupt federal government. Fulcher contended that he would reverse both issues by developing a free market health care alternative and by pushing for state control of federal lands, harvesting timber, natural gas and other resources for cash to replace federal funds.
"We've come up with some better ideas. There's a superior solution," to the state-based exchange, Fulcher said. The senator described his solution as a package that included health care savings accounts and health care "clubs" where people can pay for access to a physician through membership arrangements, similar to a gym membership.
But Otter said Fulcher was living in a fantasy world, and noted that most of the state's legislative leaders have endorsed Otter's campaign.
"I'm very proud of the fact that 88 percent of the leadership has endorsed my candidacy. I'm proud that those same people are the ones that saw the wisdom in keeping Obamacare out of Idaho," Otter said.
Other states that used the federal exchange — the option Fulcher said the state should have chosen while it worked to find better options — now have "Obamacare on steroids," Otter said.
Fulcher, Brown and Bayes all said they wanted Idaho to wrest control of public lands away from the federal government. Fulcher said he would convince the federal government to turn the lands over to the state by showing how Idaho could make money by managing the property, and then wean itself off of the federal money that the state uses for 36 percent of its total budget.
Brown said he would succeed at getting state control of federal lands by using "spiritual warfare" to "bind the evil spirits that are behind the feds." Bayes, meanwhile, said he successfully fought for the right to homeschool his kids and so could successfully fight the government on the lands issue.
Otter said he would take a more pragmatic approach to the matter.
"It's a great idea to get back all our land and I wish them well, but I don't think it's going to happen," he said. The governor said he recently identified 12 million forested acres that are threatened by bug kills, disease or overgrowth, and he specifically requested that the federal government let the state go in and clean up 1.8 million acres to reduce catastrophic fire risk.
Bayes said if he is elected he would focus on prohibiting abortions, and Brown said his own campaign was focused largely on fighting political correctness.
Brown's campaign website contains a page filled with racist, sexist and bigoted jokes targeting race, ethnicity and gender. He said the move was a deliberate part of his campaign against political correctness.
"You might find it offensive, but I hit everybody — Jews, Irish people, black jokes, and religious jokes," Brown said. "I don't like political correctness. It sucks. It's bondage. I'm going for the vote of the real people."
Otter promoted his experience in office, and said he led the state through the worst economic downturn since the Great Depression and managed to shrink government and lower taxes while balancing the budget.
"I'm honored to have been through the refining fire with you, and I'm excited about continuing to face the challenges of today and tomorrow," Otter said.
Fulcher questioned Otter's claims of economic improvement.
"Our economy is stagnant ... Are you better off today than you were eight years ago? If you're like most of us, the answer is no. It's time to shake up the government," Fulcher said.

Copyright 2014 The Associated Press
---
---