Wed., May 14, 2014
Voter Guide: Gov's race, others face Idaho voters in Tuesday's primary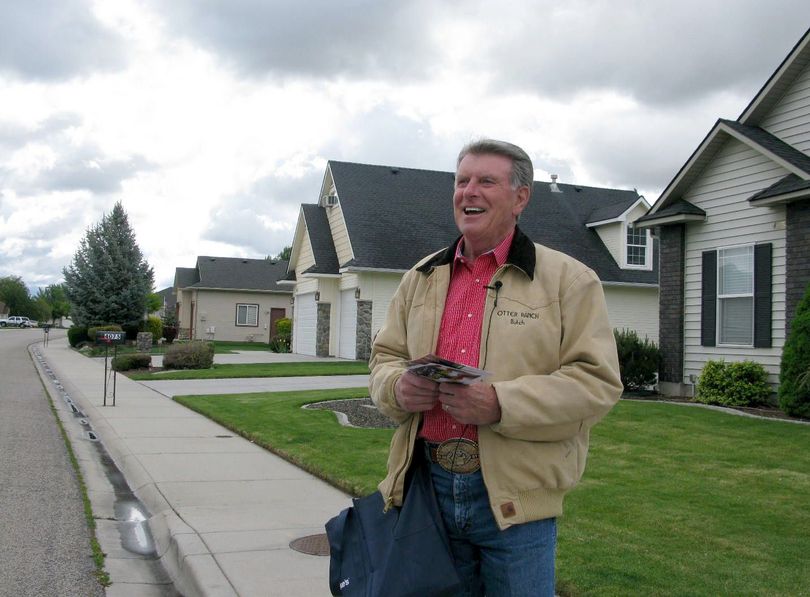 Idaho's 72-year-old millionaire rancher governor has built a long political career on disdain for the federal government and stirring talk of "freedom" and Idahoans being the "architects of our own destiny." So Butch Otter, who successfully ran for Congress a decade and a half ago on a pledge to tell the feds to "butt out" of the state – and served three terms – seems a bit puzzled about his current GOP primary challenge, from a state Senate leader who maintains Otter's not conservative enough.
"Did I ever believe in my life somebody would run at me from the right? No, I didn't," Otter said, as he paused from campaigning for a third term as governor, walking from door to door in a Meridian neighborhood, talking folks up and handing out brochures.
Senate Majority Caucus Chairman Russ Fulcher, R-Meridian, is heading a slate of candidates challenging Idaho's top GOP office-holders in the primary, saying they're not true enough to the Idaho Republican Party's platform, not sufficiently averse to Obamacare, and wrong not to dump Common Core standards for school kids and try to take title to federal public lands in the state.
Fulcher calls the Affordable Care Act "the greatest expansion of government in our lifetimes," and faults Otter for pushing for a state-based health insurance exchange. And he says with a "broke" federal government, Idaho has the best shot it's ever had at getting title to the more than 60 percent of the state that now consists of federal public lands, much of it grazing or forest land. You can read my full story here on the governor's primary race – the only debate between Otter and Fulcher, also featuring candidates Harley Brown and Walt Bayes, is on Idaho Public TV tonight at 8.
And click here for our S-R voter guide, on contested races in Tuesday's primary for statewide offices, North Idaho legislative races and local contests in Kootenai County.
---
---