Tue., Nov. 4, 2014
Otter thanks supporters, pledges to keep fighting same-sex marriage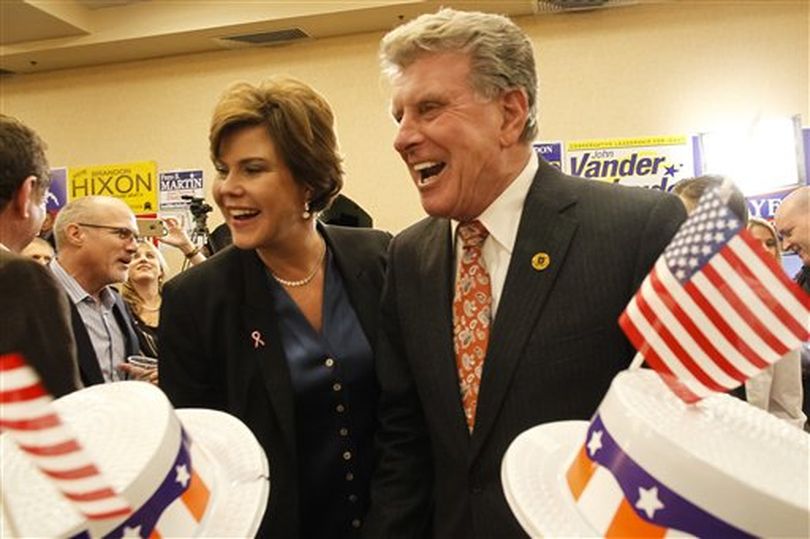 Idaho Gov. Butch Otter told the crowd at the Republican Party election night watch party that he was reluctant to give a victory speech because he hadn't yet received a concession call from losing candidates A.J. Balukoff and John Bujak, but he wanted to take the opportunity to thank his supporters. Otter also spoke out strongly and at length on his continuing opposition to same-sex marriage.
"I believe our values are strong in Idaho, I believe we're the last … right now in the United States to stand up for what we believe is traditional marriage. And I'm going to continue that fight as long as I possibly can," Otter declared to cheers and applause.
"I don't believe there's anybody in the state of Idaho that is purposely discriminatory," Otter said. "But there are values that we believe in. And we can accommodate those other things but we can't give up on our values. We voted in 2006 to say that a marriage is between one man and one woman, in the state of Idaho. Now if they want to change the other 49 states, go ahead, that's not going to bother me, but why should we change? Why should we leave our values? Why should we leave our moral principles because everybody else is? That isn't what the founders want, that isn't what our creator wanted … so we're staying there."
Otter also thanked state GOP Chairman Steve Yates. "Steve, you brought the party back together," he said. You can read my full story here at spokesman.com on tonight's results in Idaho races.
---
---