Wed., Nov. 5, 2014
Ybarra wins close race after long night of vote-counting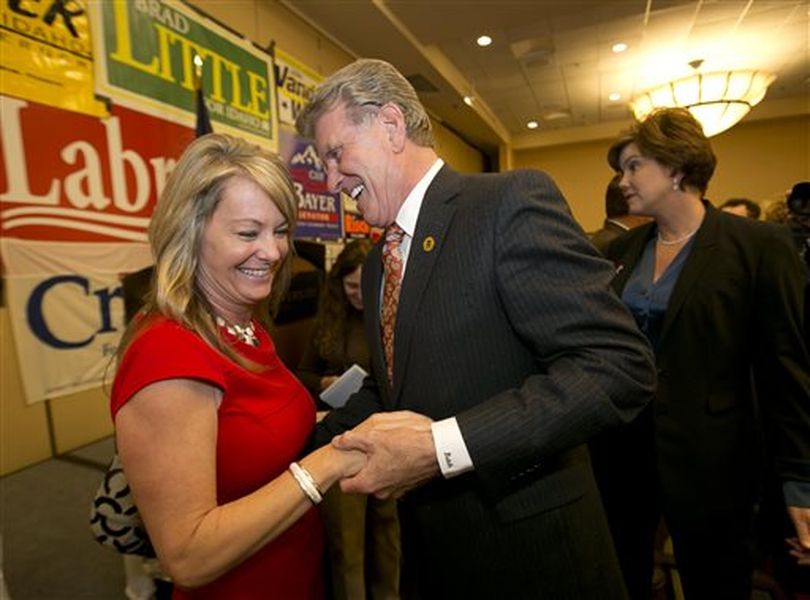 The results from Tuesday's election are finally complete, and Republican Sherri Ybarra has defeated Democrat Jana Jones for state school superintendent by 5,715 votes, a razor-thin 50.7 percent to 49.3 percent. Here's a link to our full story at spokesman.com on the results in Idaho's statewide races.
Other news that didn't emerge until Ada County's ballot-counting ended this morning: Incumbent GOP Rep. Lynn Luker, R-Boise, who had run behind Democratic challenger Steve Berch throughout the night, pulled ahead to win a squeaker by 414 votes. And Samuel Hoagland was elected 4th District judge to succeed Judge Mike Wetherell, defeating Rebecca Arnold, who had led overnight, 52.3% to 47.7%.
Statewide, Gov. Butch Otter's margin dropped, but he still won with 53.5 percent of the vote to 38.6 percent for Democratic challenger A.J. Balukoff and 4.1 percent for Libertarian John Bujak. And Lawerence Denney defeated Holli Woodings to become Idaho's next secretary of state, 56.2% to 43.8%. Ron Crane won a fifth term as state treasurer with 61 percent to Democratic challenger Deborah Silver's 39 percent. Sen. Jim Risch and Rep. Raul Labrador each got 65 percent of the vote against Democratic challengers Nels Mitchell and Shirley Ringo, to win a second six-year term for Risch and a third two-year term for Labrador. 2nd District Rep. Mike Simpson defeated former Rep. Richard Stallings 61.4% to 38.6%.
There were some very close legislative races, but in the end, only three upsets, one favoring Republicans and two favoring Democrats, for a net gain of one more Democrat in the Idaho House. And HJR 2, the constitutional amendment designed to enshrine legislative review of administrative rules from the executive branch in the Idaho Constitution, went down to a narrow defeat, with 49.4% in favor and 50.6% opposed.
---
---