At Idaho courthouses, waiting for word…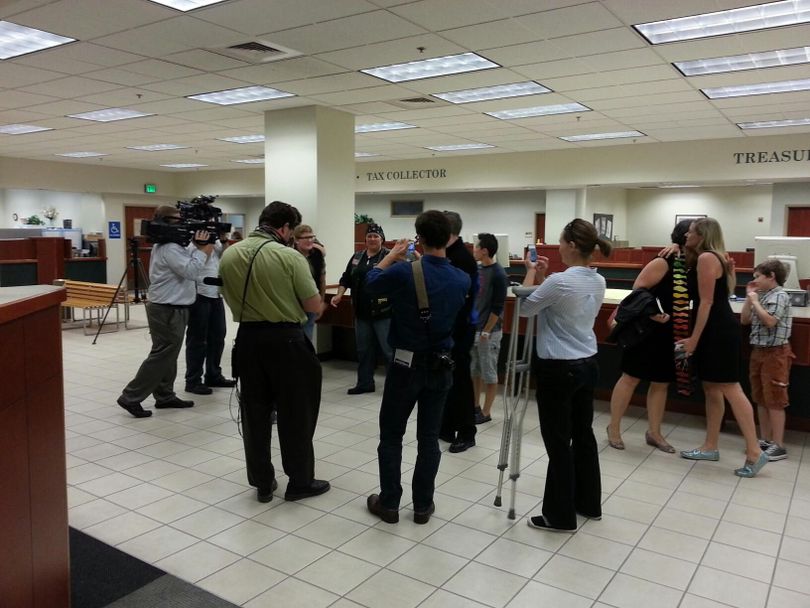 Phil McGrane, chief deputy Ada County clerk, said the county is prepared to issue marriage licenses to same-sex couples if it gets the go-ahead from the Idaho Attorney General's office, but it hasn't heard anything yet. "It looks like we're waiting for the 9th Circuit," he said. "I'm standing at the marriage license desk as we speak." The room is filled with reporters, McGrane said, and one same-sex couple has arrived to wait for a possible license.
If the 9th Circuit acts within the next hour, licenses could conceivably be issued today. But if it's later than 5 p.m. Boise time, Ada County's courthouse will be closed until Tuesday at 8 a.m. That's because Monday is a state holiday – Columbus Day – and all state and county offices will be closed.
Todd Dvorak, spokesman for Idaho Attorney General Lawrence Wasden, just issued this statement: "The order from the U.S. Supreme Court that came down this afternoon is pretty clear. Now we turn our attention to what the 9th Circuit Court of Appeals will do. Until then, our office will be communicating clearly and frequently with the Idaho Association of Counties and clerks across the state, and will advise them on how to proceed."
---
---