Female 4-star admiral to Idaho women: 'Join the military, because we get equal pay'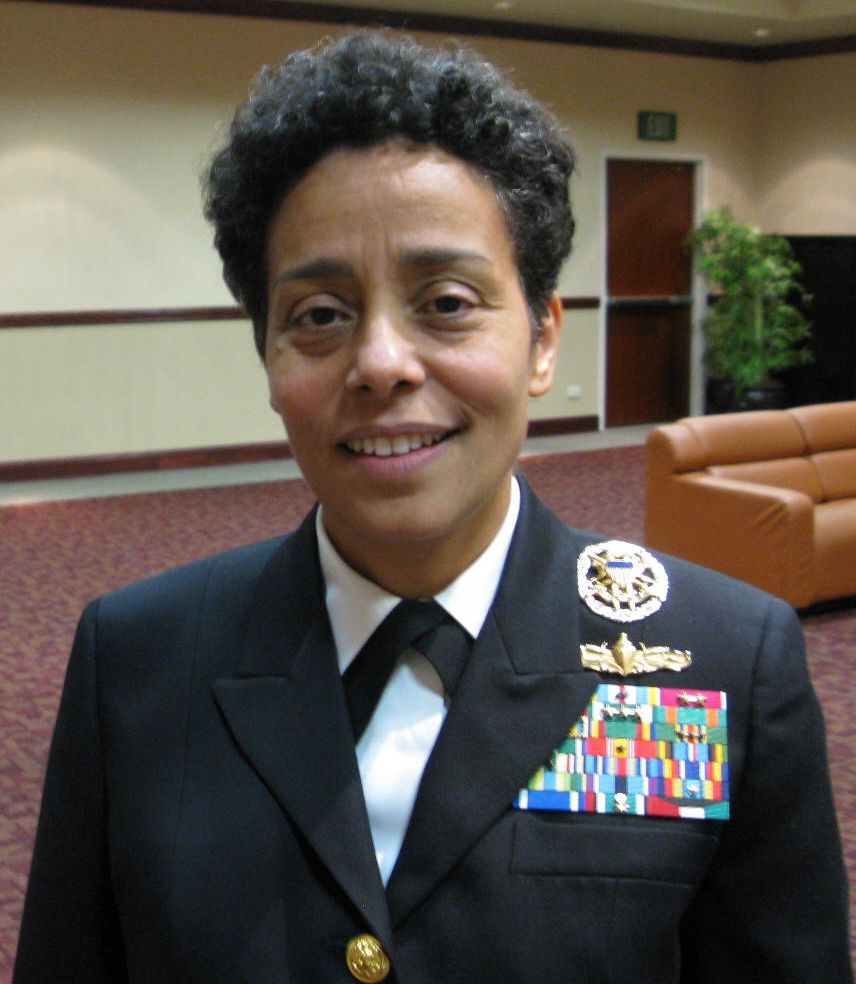 Idaho women shouldn't despair over their state's poor rankings for representation of women in top leadership positions, or for women's pay vs. men's, Admiral Michelle Howard, vice-chief of operations for the U.S. Navy and a four-star admiral, said after wowing a big crowd at the Andrus Center Conference on Women and Leadership today. "They will make the change," Howard predicted. Just last week, Idaho was ranked 45th for women's pay compared to men, with Idaho women earning 73.5 percent of what their male counterparts earn. Howard, who infused her talk at the conference with humor, had a response to that, too: "Join the military – because we get equal pay."
Howard, the second-highest official in the U.S. Navy, both the first woman and the first African-American to achieve her four-star rank, and the first African American woman to command a Navy ship – she took command in 1999 – said of all the important things on her plate, talking to women about leadership ranks as "extremely important." While in Idaho, she'll also visit the Wyakin Warrior Foundation's center for injured veterans, and will join Gov. Butch Otter at the state's official Sept. 11 remembrance ceremony.
Howard was in the Pentagon during the Sept. 11 attacks. "We were on the far side of the building from where the plane hit," she said. She and other top officials of the joint chiefs were meeting, and watched the New York attacks on television. After the second plane hit, "We really went into overdrive," she said, clear that "this is not an accident, this is deliberate," and beginning to organize and mobilize top military resources. "We were getting ready to finish up that meeting when we felt a shudder," she recalled. Another officer said, "I don't think that was yellow gear," referring to the big trucks that rumble in and out of the Pentagon complex. "Pretty quickly we realized we had been hit. We started to lock up all our classified materials, and then the order came to evacuate."
She and other top brass grabbed bottles of water and headed outside; the Pentagon does so many fire drills that things ran very smoothly, she said. Then someone suggested that the hit might have been the first of many attacks, and everyone began moving down by the river, away from the building. "We could see the smoke," she said. "I was frustrated and angry. I had trained my whole life, by golly, if I was ever attacked … we're going to shoot back." But the 8,000 people evacuated couldn't all rush over and help; most had to evacuate and go home. "That's not what I trained for," she said.
Among her biggest frustrations: Trying to get word to her husband, Wayne, that she was OK. A hunting guide, he was off in the wilds in Wyoming. "He doesn't even know this is happening," she said. He ended up getting word the next morning – both that the Pentagon had been attacked, and that his wife was OK.
---
---