Sandpoint airman honored at state 9/11 ceremony, 67th Idahoan to fall since 2001 attacks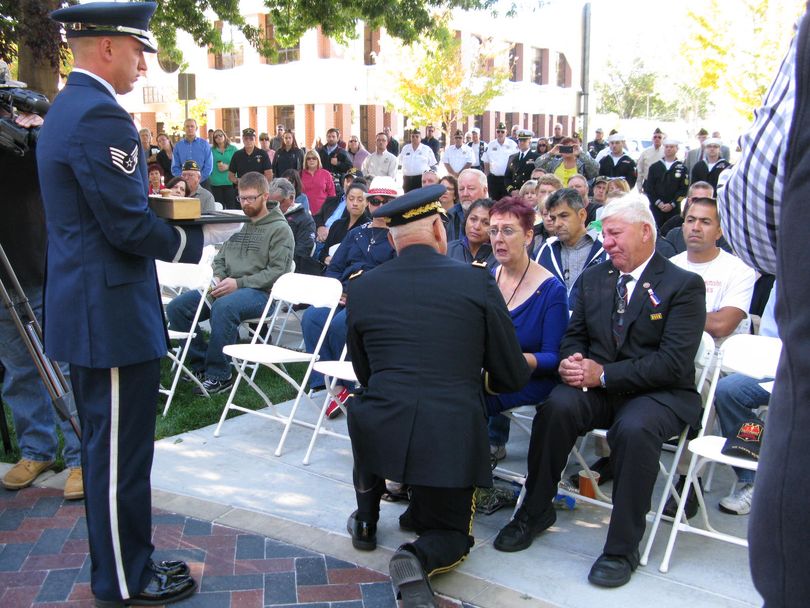 Only one name was added to Idaho's Fallen Soldier Memorial on Sept. 11 this year – that of David Lyon of Sandpoint, who was killed last December in Afghanistan. It was "one too many," Chaplain Jim Kennedy said at today's state ceremony; the number of names engraved on the memorial, listing all Idahoans who died in military service since Sept. 11, 2001, now comes to 67. But Lyon's parents, Bob and Jeannie Lyon of Sandpoint, were appreciative. "It's an amazing honor," Bob Lyon said, unable to stop tears. "We're very grateful. Freedom isn't free, it's not."
Bob Lyon himself is a proud Air Force veteran who served in Vietnam. Jeannie Lyon noted that the U.S. Navy has named a ship in honor of her son. The MV Capt. David Lyon, a 604-foot-long ship in the Military Sealift Command, was chartered in Lyon's honor in March.
"I want you to know that one man can make a difference, and the differences that David has made in his life and what he has believed in have changed the course of many lives," said Jeannie Lyon, who is a seventh-grade teacher at Sandpoint Middle School. "That ship epitomizes his philosophy of life, of, 'Send me – I will protect those who are weak and oppressed. Send me – let me be their strength.'"
Lyon was 28 when he died near Kabul, Afghanistan after a car bomb detonated near his convoy. He was a standout athlete at Sandpoint High School and the Air Force Academy who had served in the Air Force for five years; his wife, Dana, also is an Air Force captain. You can read my full story here at spokesman.com, and see a photo gallery here.
---
---