Wed., Sept. 17, 2014
Attorneys from both sides of marriage case address Constitution Day event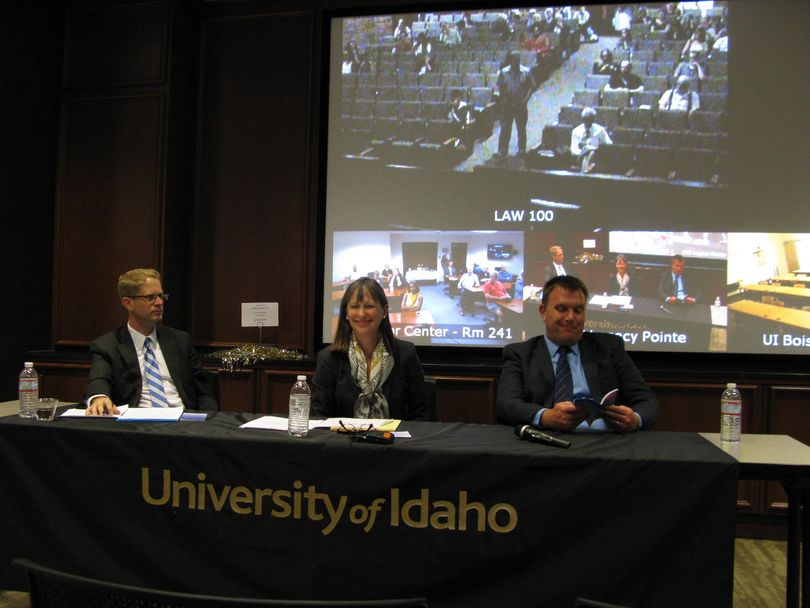 In honor of Constitution Day, attorneys from both sides in Idaho's same-sex marriage case are gathered at a University of Idaho event in Boise today, in which students, lawyers and others are participating from Boise, Moscow and Coeur d'Alene. Here, the attorneys are Craig Durham, left, and Deborah Ferguson, center, who represent the four Idaho couples who successfully sued to overturn Idaho's ban on same-sex marriage in federal court; and at right, Tom Perry, attorney for Gov. Butch Otter, who is thumbing through a pocket version of the U.S. Constitution, an item that's been provided to all the attendees here in Boise. Otter and the state appealed the federal court ruling to the 9th Circuit Court of Appeals, where it's now pending.
Shaakirrah Sanders, University of Idaho law professor, said, "This case still very much is in the litigation phase, and so to that extent … we are not expecting any of our panelists to really discuss the merits of the case. Our goal is to help provide a broader understanding both for the public and for the attorneys in the room on how our Constitution applies under these circumstances, and the fact that this is very much an issue that is in the public's interest."
Ferguson is starting with an overview of what's happened thus far in the case.
---
---