Thu., April 2, 2015
Otter signs teacher pay bill into law, says it marks a 'historic' session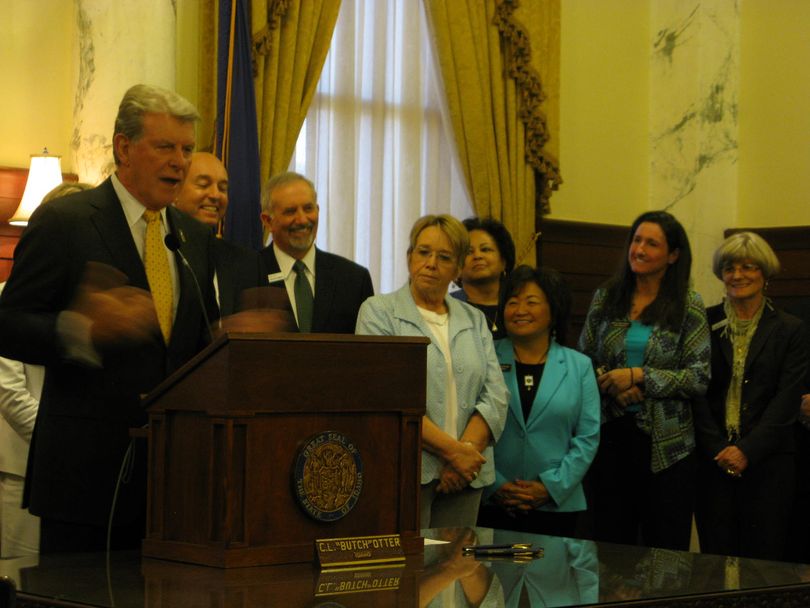 Gov. Butch Otter signed HB 296, the career ladder teacher pay bill, into law today, surrounded by supporters ranging from legislative leaders to the head of the Idaho Education Association to state Board of Education members. Otter said in the long negotiations that led to the bill, from his education stakeholders task force through three legislative versions of the plan, "We focused on what we should've been focusing on all the time, and that was the student in the classroom." The plan commits the state to $125 million in additional funding for teacher pay over the next five years; the first year's installment, at more than $33 million, already has been included in the school budget for next year; you can read my full story here at spokesman.com.
Otter said just on the basis of the teacher pay bill and the school budget increase alone, "I would declare this session really historic. … I don't ever remember a legislative session that was so focused by both sides of the aisle, by both sides of the rotunda, on the future. We've spent years scratch and patch. We've spent years saying, 'This is what we're going to do next year.'"
Otter said of the five-year pay plan: "I am committing that I am going to be proposing full funding, within our means."
House Speaker Scott Bedke, R-Oakley, said, "It's a turning point for the education system here in the state." IEA President Penni Cyr said, "They listened to teachers. … They took to heart the things that teachers were telling them that were coming directly from the classroom."
State schools Superintendent Sherri Ybarra, who didn't support the pay bill at the start of the session and favored a pilot project instead, said, "I think the turning point for me was when … the Legislature and several focus continually worked with me to ask my opinion and what it was that the teachers and folks out in the field had concerns about." She said she was pleased the state Department of Education was given oversight of the evaluation piece in the plan. "When those items got in there, that's when we were feeling comfortable," she said.
Under the plan, state funding for teacher pay, for teachers at all levels, would increase each year for the next five years, as long as teachers meet performance standards. Teachers also could earn addition pay for achieving "master teacher" status, for additional educational degrees, and for leadership.
Rep. Ilana Rubel, D-Boise, praised the way the state moved from what she called the "pitchfork hearing" on the first version of the bill, when teachers came from all over the state to raise objections, to the final, consensus version. "I was just blown away by how successful this was," she said. "This had a really rough beginning. … To have everybody come in at the end of the day and enthusiastically support it, I think was a triumph."
---
---