Thu., April 2, 2015
Senate Transportation votes to amend HB 312, the vehicle registration fee bill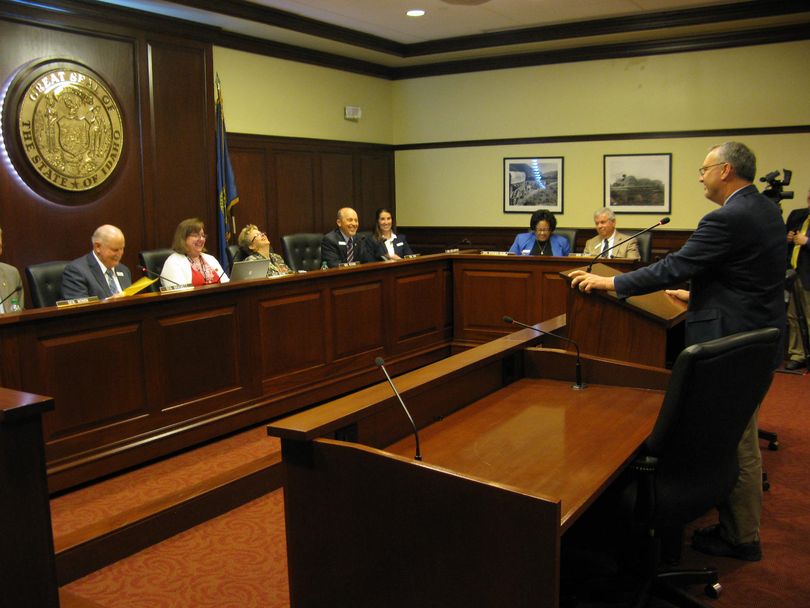 The Senate Transportation Committee has voted 7-2 to send HB 312, the vehicle registration fee increase bill, to the Senate's 14th order for amendments; the only two "no" votes came from Sens. Steve Vick, R-Dalton Gardens, and Lori DenHartog, R-Meridian. The votes followed a presentation of the bill by its sponsor, House Transportation Chairman Joe Palmer, R-Meridian, that set a legislative speed record.
"HB 312 – it's all yours," he told the senators. "Thank you for your presentation," responded Sen. Bert Brackett, R-Rogerson, Senate transportation chairman. "If you care to elaborate, that's fine. If not, we'll open it to questions."
Palmer said, "I think we can take questions, if you have any." After the briefest of pauses, and amid rising laughter in the room, Brackett said, "I don't see any - would you care to close?" Palmer said, "Thank you." Sen. Cherie Buckner-Webb, D-Boise, burst out, "Oh, my gosh!" as several senators threw back their heads to laugh. Palmer had said before the start of the meeting that he already knew what was going to happen.
Sen. Chuck Winder, R-Boise, a former Idaho Transportation Board chairman, said, "I'd be remiss if I didn't express my appreciation to the chairman and the other House members that are involved in this process. Sometimes it is an ugly, hard process, and it always has been. … I commend you for the effort and thank you for getting something over to us to consider. While you guys have been over there scrambling eggs for almost three months now, we've had 'em for a few days. We're trying to figure out how to match up … with what the House wants and likes. ... Hopefully as we go through this process, we'll inch ever closer to a mutually agreeable solution."
Three lobbyists testified in favor of the bill, on behalf of cities, counties, highway districts, milk producers, food producers and engineering companies.
Sen. Shawn Keough, R-Sandpoint, said, "As the committee members know and as the folks in this room know, HB 312 deals with increases in registration fees for cars and trucks, and then establishes a fee for electric and hybrid vehicles. I think we have heard … that it's a step in the right direction, however it potentially falls short of expectations, and certainly falls short of the needs for maintenance that have been identified pretty consistently over the last five years." She noted that the state has an estimated $262 million annual backlog in road and bridge maintenance, just to keep its transportation system as-is. "For me, this is a good start, however I think this also provides us the opportunity to look at the $262 million mark," Keough said. "Although we also, I think, are cognizant, all of us, of the need for consensus between this side of the building and the other side of the building."
Her comment echoed one from lobbyist Jeremy Chou, speaking on behalf of the American Council of Engineering Companies in Idaho. "You need two houses to pass a bill, and we're hopeful that in the next week or two, you're going to be able to do that," Chou told the senators.
Brackett responded, "Maybe I heard you wrong. You said a week or two. I thought a day or two." That comment, too, brought laughter.
Both the House and Senate already have adjourned to Monday, so any amendments would be considered next week.
---
---