Fri., April 10, 2015
The art of Rep. Bateman: 'The Salamander Kid'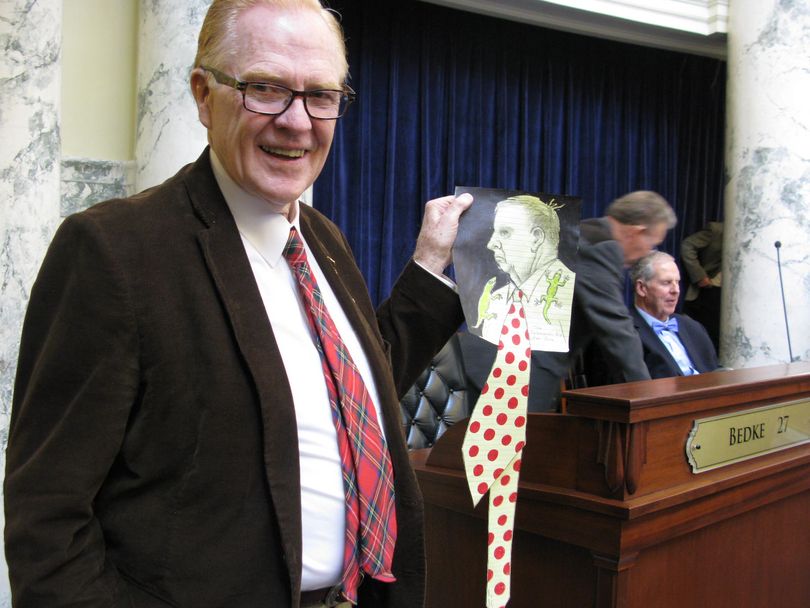 Rep. Linden Bateman, R-Idaho Falls, poses with his artwork entitled, "The Salamander Kid," picturing his rendition of Rep. Tom Loertscher, R-Iona, who can be seen at right. Loertscher, of course, chairs the House State Affairs Committee, which first killed, then passed legislation to make the Idaho giant salamander the state's official amphibian; that bill, HB 1, is now law.
House members are now enjoying a lovely spread of what Speaker Scott Bedke called "sine die refreshments" in the lounge behind the House chamber, thanks to staffers, largely Bedke's assistant Mary Lou Molitor. They're in recess until 1:30. The Senate now has also recessed until 1:30.
Before it did so, the Senate has passed HCR 26 on a 30-1 vote, which Sen. Todd Lakey, R-Nampa, described as the "reduced version" of the resolution the Senate passed earlier for a study committee to examine broadband service to Idaho schools and state agencies. And Senate Majority Leader Bart Davis offered a "road map" that extended only to the return from recess at 1:30. "We hope by then we'll have some of a more serious road map than we are currently able to provide to you," he said. Davis also shared some comments about "struggle" and the nature of politics.
---
---