Fri., April 10, 2015
Senate debate: 'One more step to take,' 'Still behind the curve on education,' 'Best we can today'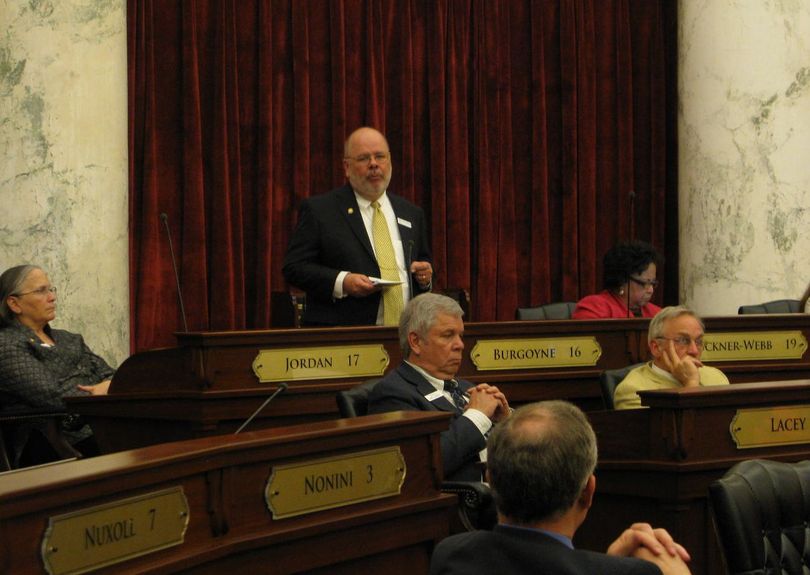 By the end of Senate Transportation Chairman Bert Brackett's opening debate, he was inadvertently speaking in rhyme: "We've got one more step to take, and one more vote to make," he told the Senate.
Sen. Grant Burgoyne, D-Boise, said he splashed cold water on his face to get ready to debate against the transportation funding bill, HB 312aa. "It's been a long, long time since I was out this late on a Saturday night, or a Friday night, whatever it is," he said to muted laughter. "What this bill does is pick one of the many, many things that we do not properly fund in Idaho, and makes it our No. 1 priority. The Constitution of Idaho tells me there is something else that should get our No. 1 priority. ... It is education. We are still behind the curve there. We are not where we need to be." He also said in the Treasure Valley, Idaho could do more to improve its transportation system by investing in public transit.
Sen. Dean Cameron, R-Rupert, said, "Education has been our No. 1 priority, and we addressed it this year. ... We can't bite off everything at once. We're making good progress." He said, "This bill does not create a constant stream of money from the general fund to transportation. ... It shows up only after we have taken care of education." He said, "This bill is the best we can today. I hope you'll support it."
Sen. Chuck Winder, R-Boise, said, "The state Constitution prohibits the use of fuel and registration fees for transit. ... Under our Constitution, I think we're restricted in that funding." He called HB 312aa "a path to fill some of the holes out there."
Sen. Marv Hagedorn, R-Meridian, said the bill doesn't go far enough to pay for the needed maintenance on Idaho's transportation infrastructure. "We have failed. Every one of us has failed," he said. "If we're going to use our transportation infrastructure, we have to pay for it. We're not doing it now. ... We need to fix this."
---
---