Thu., April 23, 2015
Moose cavorts through North End, enjoys Elm Grove Park, gets sent to the mountains…
It was early this morning when Idaho Fish & Game received a call about a moose meandering along Hill Road in Boise's North End, near 23rd Street. "It started to turn south and that was a concern, because it was headed in the direction of State Street with the morning traffic," said Fish & Game spokesman Mike Keckler. "It got within a block of State Street, and that would have been bad." Moose are so long-legged – the two-year-old female that wandered the North End this morning stands around 6 feet tall and could weigh up to 700 pounds – that when they're hit by a car, it's generally bad news both for the animal and the people who hit it. "They don't bounce off a car – they land right on the passenger compartment," Keckler said.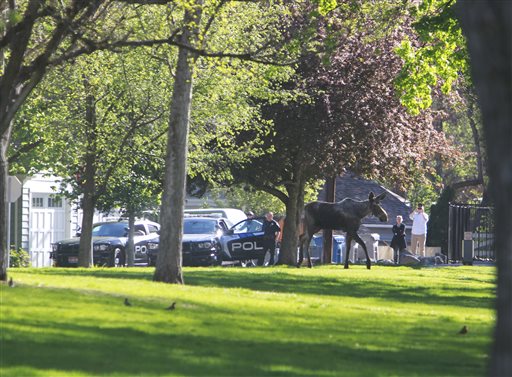 Boise Police, using patrol cars with flashing lights, managed to herd the moose back away from the busy thoroughfare. "They did a heroic job of turning the moose and getting it to go back north," Keckler said. Trotting through the leafy North End neighborhood, the moose arrived at shady Elm Grove Park, where "it felt safe, and it just basically laid down in the shade of a tree up there," Keckler said. "The Boise Police blocked off traffic."
Once the moose had calmed down and had a rest, an Idaho Fish & Game biologist arrived from Nampa with a horse trailer and immobilizing drugs, and was able to get close enough to dart the moose in the shoulder. "It jumped up, kind of looked at us," Keckler said. "It started to make its way north out of the park. In about 10 minutes time, the drug began to take effect and it laid down on the sidewalk, right in front of a house there, and we were able to get up there." That was near Dora and 23rd streets. "Our biologist quickly put a bandana around its eyes, that helps lessen the panic urge. … And then six or seven people, they rolled the moose onto a big tarp and picked up the tarp and hauled it onto the horse trailer."
Today's cool weather helped, Keckler said; animals sometime heat up after they've been darted. Ice was put around the moose in the trailer and its temperature was checked; it was "well within range." Then, another injection was given to reverse the immobilizing drug, the trailer door was closed, and before the trailer headed out, the moose inside was back up on its feet.
It's the same female moose that last year, as a yearling, was removed from the Warm Springs Golf Course and taken up to the woods outside Idaho City; at that point, Fish & Game officers placed a green tag in its ear. "Clearly we didn't take it far enough," Keckler said. This time, the moose is being taken farther away to the Lowman area, where there are other moose. "Maybe this animal was looking for other moose and maybe that's why it came down, we don't know," he said.
The moose chase and capture caused a big flurry of interest on Twitter this morning. Among the tweets was this from Scott Graf, news director at Boise State Public Radio: "For the record, if you tranquilized me and took me to Idaho City, I'd make my way back here, too. #boisemoose"
Both Fish & Game and Boise Police had praise for the many onlookers who took pictures and watched, but stayed back. "It's important to note for people, when they see these sorts of things in town, contact authorities right away and don't get too close," Keckler said. "Whenever an animal feels cornered or trapped, that's when it can become dangerous. And a cow moose, particularly when it has a calf along, can be one of the most dangerous animals you can encounter in the wild." People have been stomped to death by cow moose, he noted.
---
---