Wed., Aug. 12, 2015
As wildfire costs continue to rise, Crapo, Wyden, Risch say it's time to change how firefighting is funded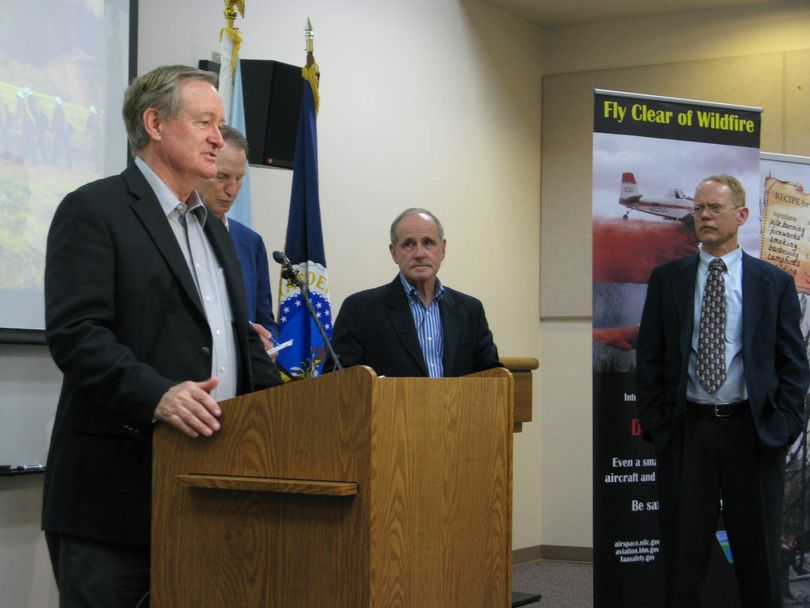 Idaho Sen. Mike Crapo, along with Sen. Jim Risch and Oregon Sen. Ron Wyden, visited the National Interagency Fire Center in Boise today to hear the latest, troubling news about this year's difficult fire season, and speak out for legislation Crapo and Wyden have introduced in Congress to change how wildfire suppression is funded. Under the bill, once fire suppression costs in any year exceed 70 percent of the 10-year average, they'd be covered from a wildfire disaster account separate from the Forest Service and Interior budgets, tapping the same funding sources FEMA taps for hurricanes, floods and other national disasters.
The idea is to eliminate so-called "fire borrowing," in which, when firefighting costs rise above budgeted levels, land-management agencies like the Forest Service and the Bureau of Land Management have to dip into all their other programs – including those aimed at preventing future fires. The result is more and worse fires, and ever-climbing costs. "This problem just gets worse and worse," Wyden said.
Will Whelan of the Nature Conservancy, who joined the three senators at NIFC today to tout the legislation, said in 1995, the Forest Service spent 16 percent of its budget on fire suppression. Today, it's 52 percent, and in 10 years it's projected to rise to 67 percent. "That means that annually, over time, the agency will be shifting $700 million from programs that support recreation, wildlife, water quality, forest jobs, to fire suppression," Whelan said. "This has an impact on real people and real places. … Everybody who depends on the national forests needs to care about the broken system for fighting fires."
Whelan said no other federal agencies are required to bear the costs of natural disasters from within their regular operating budgets.
Risch said, "This is not a partisan issue. This is an issue that those of us who live out west have wrestled with for a long, long time." With wildfires, he said, "Every year is different. The cost of these can really wreak havoc on the budget in a given year." The bill, he said, "Will take this and put it where it belongs, and that is with all other types of disaster spending."
Wyden said he's hoping to push hard for the bill when Congress reconvenes in September. "The entire federal budget is on the table," he said. "We are well positioned." In the closing days before the August congressional recess, 11 western senators submitted a statement to the Congressional Record pledging strong support for the bill. They included Budget Committee Chairman Mike Enzi, R-Wyo.; Energy & Natural Resources Committee Chairwoman Lisa Murkowski, R-Alaska; Sen. Maria Cantwell, D-Washington; and more. "This is the time," Wyden said.
"It's an emergency," Crapo said. "In this Congress, virtually every spending issue is coming to a head in September. Because of that, it's the time we've got to get this spending issue into the mix and resolved with all the rest of it."
Crapo noted that both the White House and the Congressional Budget Office have now scored the bill, S. 235 in the Senate and HR 167 in the House, as revenue-neutral, saying it wouldn't create any increase in federal spending. "We're going to have to fight these fires anyway," Crapo said. "What our bill allows us to do is to utilize the emergency funding that Congress already has and has appropriated, to fight those emergency disaster fires."
The bill, the Wildfire Disaster Funding Act, has 16 Senate cosponsors from both parties and support from 250 organizations; an identical version in the House, sponsored by Idaho Rep. Mike Simpson, has 124 co-sponsors from both parties, including lead co-sponsor Rep. Kurt Schrader, D-Ore.
---
---