Wed., Dec. 9, 2015
Otter says he'll focus on education in upcoming session, but doesn't see some 'shaving' of taxes as conflicting with that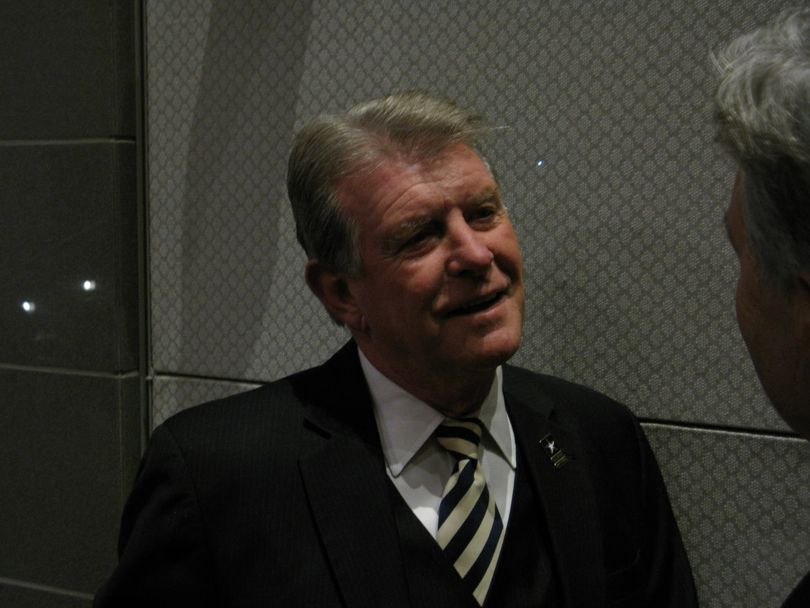 Without offering specifics, Gov. Butch Otter told the Associated Taxpayers of Idaho this morning that he doesn't view tax reductions and investing in necessary government programs as in conflict – but he thinks Idaho's got some ground to make up in education.
"Sometimes there's an effort, I think, at the state levels to use tax policy to starve government … by cutting taxes you cut the income to government," Otter said. "We'd rather focus on the efficiency, focus on the necessary and proper roles of government instead. And if we can create the kinds of programs within the state that actually do save money, that actually provide a service to our citizens, then it's important to do so."
He pointed to the new behavioral health crisis center in Coeur d'Alene, for which he cut the ribbon yesterday. It's the state's second one; the first, in Idaho Falls, already has seen 1,100 people walk through the doors, Otter said. He said they "found a portal of help that wasn't at the jail, and didn't go through the emergency room. They didn't end up with police officers setting there waiting for them to get stabilized to decide whether they should be incarcerated."
"The police, law enforcement, saved 850 hours of time where they were actually out doing their job in the community for the safety and health of the citizens of the community," Otter said. "And we see the results in the emergency room cost for the indigent fund, we see the results in lower costs for the CAT fund." Otter said he'll be seeking funding from lawmakers this year for a third crisis center.
"We're going to continue to look for those kinds of investments that we can make," Otter declared. "Yes, when we have an opportunity to shave taxes, we're going to do that. But we've got a little makeup time to go, and I don't see necessarily tax reduction and some of the investments that we have to make in our budget, I don't see those as conflicting. I see those - really the example was one I just gave you - as being very complimentary."
He said his focus and priorities for the upcoming legislative session won't change from last year. "We're going to continue to focus on K-through-career," he said, including the 20 recommendations from his education improvement task force, "with some enhancement for things like professional-technical education." Otter said he wants to "get these kids started ... on a glide path to either a professional degree or a skill degree," to help the state meet its goal of having 60 percent of its residents between the ages of 25 and 34 with some kind of post-high school educational certificate or degree.
Said Otter, "There's a great promise out there, and that great promise is if we can educate the folks to do the jobs that need to be done, then we can continue this growth that we've had over the last few years."
He touted the $300 million in tax cuts that Idaho already has enacted since he's been governor, and said he believes the new tax incentives the state is providing to companies planning big new plants or expansions is helping diversify Idaho's economy. "I don't see, by the way, our investments in the future or in education, I don't see those necessarily in conflict with tax policy and continued reduction in taxes," Otter repeated as he closed his speech to an audience of local government officials, lawmakers, lobbyists and others gathered for the annual Associated Taxpayers conference. "But I do know there's some catch-up time in higher education."
Otter was greeted with an enthusiastic standing ovation when he first came to the podium this morning. To laughter, he commented, "Amazing what happens when they know you're not running again."
---
---