Thu., Feb. 5, 2015
Lawmakers recall history: Idaho was 4th state to grant women the right to vote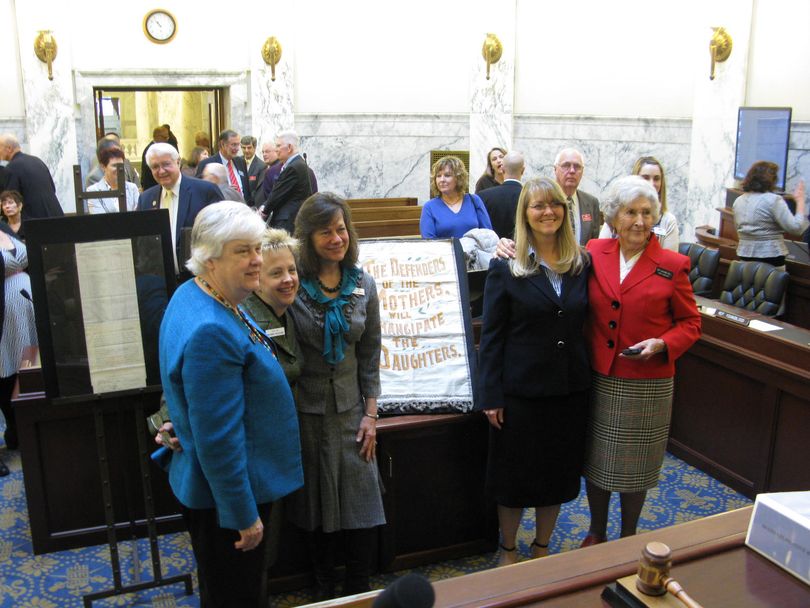 Idaho lawmakers took a moment to recall a piece of Idaho history today, as the Idaho Historical Society, after its budget presentation to JFAC, unveiled two historic artifacts: The original register of votes from the 1896 election that approved a state constitutional amendment granting women the right to vote; and a silk banner used by the Idaho Falls Suffrage Club as they worked to get the measure on the ballot.
The artifacts were displayed to JFAC members after the budget hearing; then brought to the chambers to show all lawmakers. In the House, Rep. Christy Perry, R-Nampa, noted that though Idaho was the fourth state to grant women the right to vote, it was the first to do so via a constitutional amendment. "No women were allowed to vote for the amendment, only men could vote for the amendment, which would give women the right to vote. And overwhelmingly, they did so, by a nearly 2-1 margin," Perry told the House.
The 1898 election was the first in which Idaho women could vote, "and vote they did," Perry said. In that election, the first female statewide office holder was elected, Permeal French, a Democratic state superintendent of public instruction who served until 1903. Also in that election, three women were elected to the Idaho Legislature. "Now it is more obvious than ever that our past influences our future," Perry said. "Today Idaho remains a leader in the number of women that serve in Idaho's Legislature." Idaho's Legislature is 26.7 percent female, according to the Center for American Women and Politics; that's above the national average and ranks 17th among the states.
---
---