Fri., Feb. 6, 2015
Nonini pitches bill to cap 'instant racing' locations at three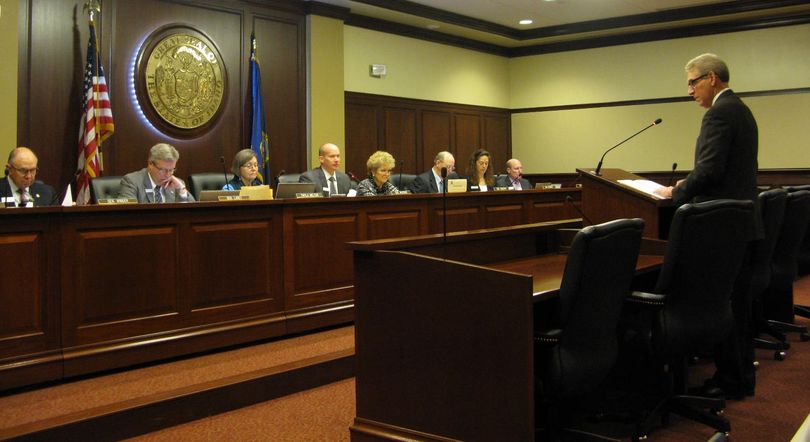 Sen. Bob Nonini, R-Coeur d'Alene, proposed new legislation this morning designed to limit controversial "instant racing" machines to three locations – Les Bois Park, the Greyhound Park Event Center in Post Falls, and Sandy Downs racetrack near Idaho Falls. His bill would require the slot machine-like betting machines already installed at the Double Down Betting Bar in Idaho Falls, under the auspices of Sandy Downs, to be moved to the racetrack. "I believe there's a concern about the proliferation," Nonini said.
His bill wouldn't limit the number of machines that could be at those three locations. The Senate State Affairs Committee agreed to introduce the bill this morning, with Sen. Brent Hill, R-Rexburg, saying he made the motion "as a courtesy to my colleague in the Senate," but adding that he still has questions about it.
Sen. Curt McKenzie, R-Nampa, the committee chairman, said the committee already has a hearing scheduled on Monday on SB 1211, legislation proposed by the Coeur d'Alene Tribe to repeal the 2013 law that authorized betting on "historical horse races," which led to the machines. That hearing will go forward as scheduled, he said. Depending on what happens with it, Nonini's bill might or might not get a hearing.
Nonini said after the committee meeting that he's heard concern from people in North Idaho about proliferation of the machines. "I think in regard to the repeal bill … my concern is there is a police investigation going on about the Greyhound Park," he said. "I think it's a little early on to repeal the act, prior to seeing the result." Nonini noted that his legislative district is the only one in the state that both has pari-mutuel betting, on simulcasts of dog races at the Greyhound Park, and a tribal casino on the Coeur d'Alene Reservation. He said he'd spoken with the Greyhound Park operators, and they support his bill.
Helo Hancock, legislative liaison for the Coeur d'Alene Tribe, said, "Trying to limit or cap this at the existing facilities doesn't address the real issue. The real issue is the machines aren't legal. We didn't get what we were sold." He said, "This was misrepresented, and a lot of legislators fee deceived, and frankly we were deceived. That's why we didn't oppose this bill" in 2013.
He said, "We don't have anything against the horse guys or horse racing." But Hancock said presenting the instant racing machines as pari-mutuel betting, like pooled betting on horse races, was misleading. The tribe's casino operates a different type of machine authorized by a voter initiative and a gaming compact with the state, and regulated by the National Indian Gaming Commission under federal law; it doesn't claim to operate pari-mutuel betting. The tribes gaming machines are "defined in code," Hancock said. "We have 23 years of responsible, limited gaming."
---
---