Mon., Feb. 9, 2015
Instant racing developer from Arkansas tells senators there's no difference between 'instant racing' and 'historical racing'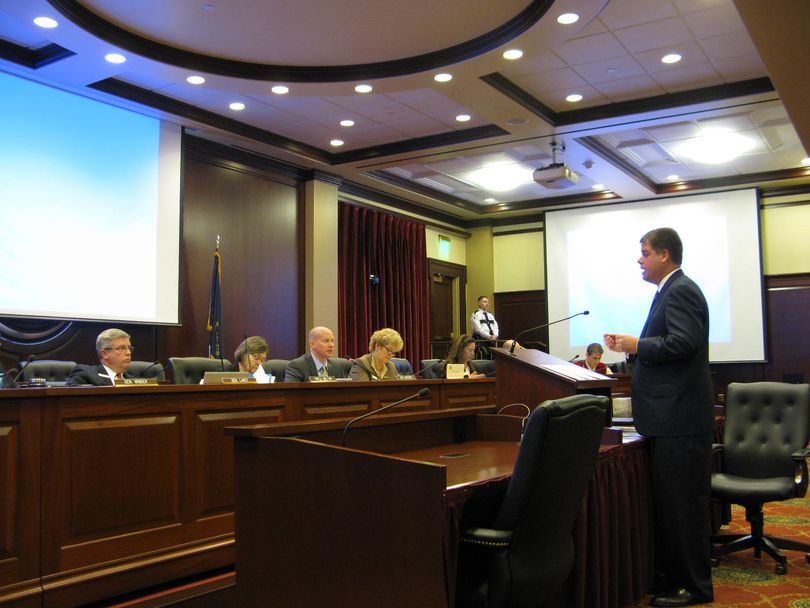 When Louis Cella , of Race Tech LLC, which developed the "instant racing" machines, and who is also vice president of Oaklawn Park in Arkansas, spoke to the Senate State Affairs Committee this morning, senators had lots of questions for him. Among them: A video showed earlier in the hearing showed a player being sent to a "bonus round" in which she had to pick one of several "mountains," and when she got the right one, it exploded and she was told she'd "struck gold" and won more than $8. Senators questioned how that "bonus round" related to pari-mutuel betting on horse racing.
"Is it fair to give a patron more money by not having to pick another race, because he's picked the race to get there?" Cella responded. "So the question is, gosh, we shouldn't let 'em win any more money. Or is it OK to do that? Because it's still a pari-mutuel product." He said patrons can't get to the "bonus round" without first winning a bet on a race.
Sen. Todd Lakey, R-Nampa, said when he tried out a machine at Les Bois Park, "The game I played was the cherry game, it has the three spinning reels and the screen at the bottom. You've heard the discussion today that the focus and the definition of pari-mutuel in Idaho is tied to that skill, knowledge and horsemanship. I had to go through a couple of screens to get to those pie charts, and the pie charts were there for about 4 or 5 seconds and I couldn't go back and look at them after that. How does that go to the basis of pari-mutuel in Idaho being skill and horsemanship?"
Cella said, "Every race in the system is a 10-horse field. … If it were pure chance, odds of picking the winner would be one in 10." But, he said, people are picking the winner 1 in 7 times. On a type of bet with 90 possible outcomes from multiple horses, the Exacta, "People are winning the Exacta about 1 in 45 times, greatly better than if it were pure chance."
Cella said, "What instant racing is designed to do is to take the non-traditional fan, get 'em back to the race track and introduce them to racing." He said what he sees as the key difference between a slot machine and an instant racing terminal is that the slot machine has a "random number generator" in it that determines whether the player wins. The instant racing machine, he said, is a "dumb terminal" vs. a "smart terminal." "If you plug it in in your basement, nothing works," he said. "If it's not hooked to the central tote, it will not work."
Cella also responded repeatedly to questions from Senate Majority Leader Bart Davis, R-Idaho Falls, by telling him "you're wrong," "you're wrong," and "you're factually off-base here."
Sen. Chuck Winder, R-Boise, asked, "What's the difference between historic and instant racing?" Cella responded, "Nothing." He said when his company developed it, "We called it instant racing." Then Kentucky, he said, "started calling it historical racing. Other jurisdictions like their name over our name."
He said, "It is what it is. The definitions are what they are by the folks who do this for a living."
---
---