Wed., Feb. 18, 2015
Bill to create new 'Transparent and Ethical Government' title in state law clears House panel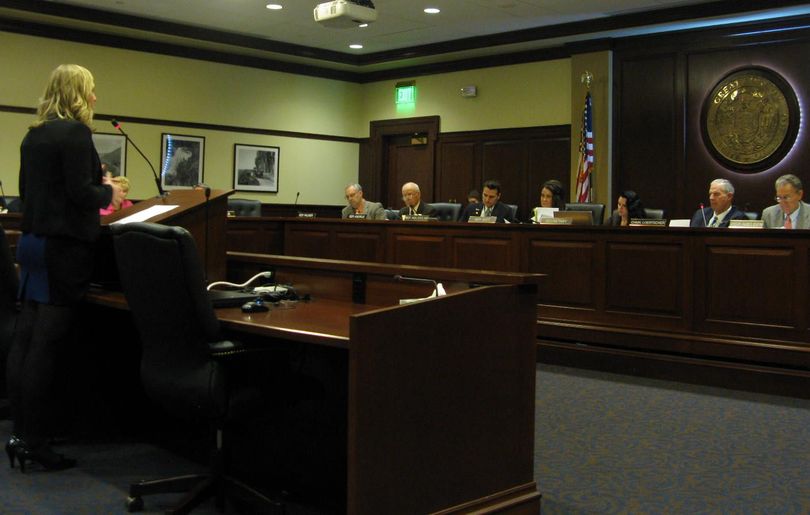 Legislation to consolidate Idaho's public records law, open meeting law, and ethics in government laws into a single new title called "Transparent and Ethical Government" cleared the House State Affairs Committee this morning and headed to the full House. The two bills, HB 90 and HB 91, were developed by Cally Younger, Gov. Butch Otter's public records ombudsman, and a committee she put together that includes representatives of the news media, the Idaho Attorney General's office, the Association of Idaho Cities and the Idaho Association of Counties.
"One of the first things our group noticed is the transparency and ethics in government statutes were all over the code, which made them difficult to find," Younger told the lawmakers. The public records law is in the section on evidence. The Open Meeting Law is in a miscellaneous section under state government. And the ethics laws are under "public officers." "It's not intuitive to the average citizen," Younger said.
Rep. Lynn Luker, R-Boise, said he was "a little queasy" about the bills, saying they could potentially create obstacles for lawyers doing legal research that includes tracking of prior court decisions. Younger and Deputy Attorney General Brian Kane said cross-references would address that; the second bill, HB 91, includes all the necessary cross-references. Rep. Vito Barbieri, R-Dalton Gardens, also said he was concerned about the ability to search. Luker said to a lawyer, it's logical that the public records law is under the title regarding evidence.
Wayne Hoffman of the Idaho Freedom Foundation testified in favor of both bills, saying he often gets calls from people trying to find the public records or open meeting laws in state code. "It's not that easy for the public to find," he said. "They'll go to the Legislature's website, click on the statutes, scroll down through the titles, and fail to find anything dealing with government records or transparency."
Also testifying in favor of the bills were representatives of the Newspaper Association of Idaho and the Idaho Press Club (full disclosure here: I'm the president of the Press Club, and I serve on Younger's committee).
Rep. Paulette Jordan, D-Plummer, said, "I do want to aim at making it easier for the public to track public records." Rep James Holtzclaw, R-Meridian, said, "It's imperative that our government have transparency. Idahoans deserve the ability to understand where to get the statute and where to attend open meetings."
Four committee members – Reps. Barbieri; Kathy Sims, R-Coeur d'Alene; Shannon McMillan, R-Silverton; and Tom Loertscher, R-Iona – voted no, but the first bill, HB 90, passed easily. On the second, HB 91, to provide the cross-references, only Barbieri dissented. He objected to the idea of moving the sections of law without making changes to them, saying he'd also like to review rules that reference them at the same time. "It may seem a little technical to some," he said.
---
---