Women rally against two anti-abortion bills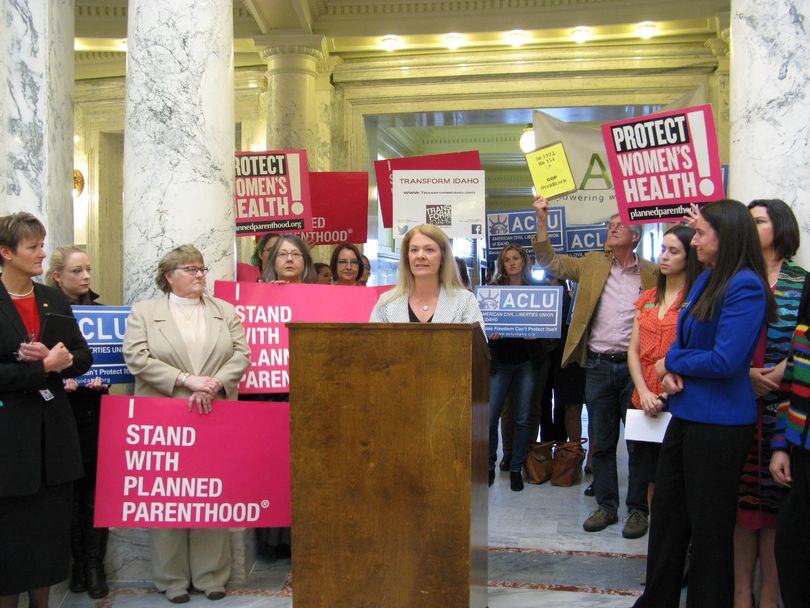 Dozens of women gathered in the Capitol rotunda over the noon hour today to denounce two anti-abortion bills now pending in the Idaho Legislature, HB 154, which is scheduled for House debate on Monday and would place new restrictions on medication-induced abortions in Idaho; and SB 1102, which is pending in a Senate committee and would require admitting privileges at a hospital within 30 miles for any doctor performing a surgical abortion.
"These politicians must think we are stupid, if they think we want politicians playing doctor and interfering in our private decisions," declared Kathy Griesmyer of the Idaho ACLU. University student Lauren Bramwell said, "It's a sham – it's a political ploy to decrease access in the guise of 'female protection.' … Access to abortion clinics is already limited in our state."
The press conference/rally was organized by the ACLU of Idaho, Planned Parenthood, and several female state lawmakers. Dr. Julie Madsen, who testified against HB 154 earlier in the House State Affairs Committee and ended up tangling rhetorically with Rep. Vito Barbieri, told the group, "Your health care may soon be determined by how your legislator interprets the Bible, rather than how your health care provider interprets medical science." She said restrictive abortion laws don't reduce abortion rates, but reforms including access to family planning and other women's health care do. "I challenge this Legislature to make abortion unnecessary, rather than illegal," Madsen declared.
She added, "There's one thing that no woman has ever asked me in my 25 years in medicine – no woman has ever asked me to call her legislator and ask him to make her private health decisions."
Participant held signs, some bright pink, with slogans including, "My vagina, my life, my decision" and "Protect women's health!" At the back of the crowd, "Pro-Life," formerly known as Marvin Richardson, held a counter-protest sign proclaiming, "THE PILL KILLS BABIES."
---
---