Thu., Jan. 8, 2015
Legislative leaders differ on Medicaid expansion prospects, agree more school funding a priority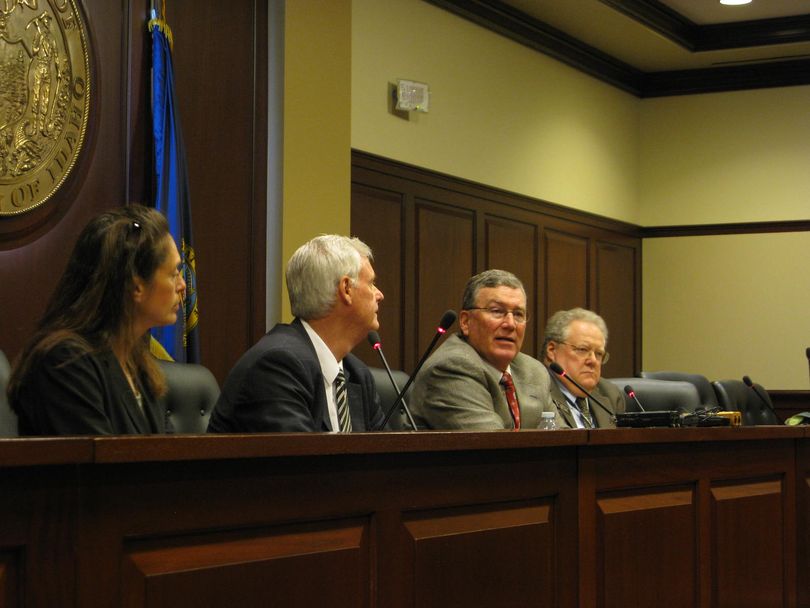 Legislative leaders from both houses and both parties, addressing reporters today at the AP Legislative Preview, all agreed that education funding will be a top priority in this year's legislative session. But they differed on an array of other issues, including the prospects for Medicaid expansion. "There are not the votes to move that issue, from my perspective, and I can count, usually," said House Speaker Scott Bedke, R-Oakley. "And so that's the issue. And so to those that feel that that's wrong-headed or in the wrong direction, then they've got to go to these legislators and they've got to explain why the position that they have taken or seemingly have taken is wrong, and why another alternative would be better. And most legislaors default to better, once they're sold." But Bedke said he won't be the one doing the selling. "Frankly, I am not there yet," he said.
House Minority Leader John Rusche, D-Lewiston, a retired physician, said, "I spent my entire career in health care and health care financing and I've said repeatedly that it's a no-brainer, and it still is. We have probably 400-plus preventable deaths a year in the uncovered population. We're spending $90-plus million dollars that Idaho citizens don't need to spend to pay for the bills for those that do get care. And the burden is falling on those least able to support it." He noted that without Medicaid expansion, poor working Idahoans who make too much to qualify for Medicaid don't make enough to get subsidized health insurance through Idaho's insurance exchange.
Senate President Pro-Tem Brent Hill, R-Rexburg, said, "There are some economic incentives for expanding Medicaid out there. That's the way the federal government does a lot of its programs. I can make a good economic argument why we should expand Medicaid. But the problem is we've got to deal with the political realities here." Between feelings and "state sovereignty issues," he said, "There's a lot of things that go beyond the dollars and cents. Plus there's the big unknown factor out there – the federal government keeps changing things."
Senate Minority Leader Michelle Stennett, D-Ketchum, called it "unconscionable" to leave those Idahoans stuck in the coverage gap without any option. "That's just not how we should be handling things," she said. "Our cities and counties are taking the burden – right now we're paying for it in the CAT fund and we're not taking care of enough people." Idaho's catastrophic care program, funded entirely with local property taxes and state general funds, pays the unpaid catastrophic medical bills of people who can't afford to pay them.
---
---