Otter calls on lawmakers to back streamlined sales tax legislation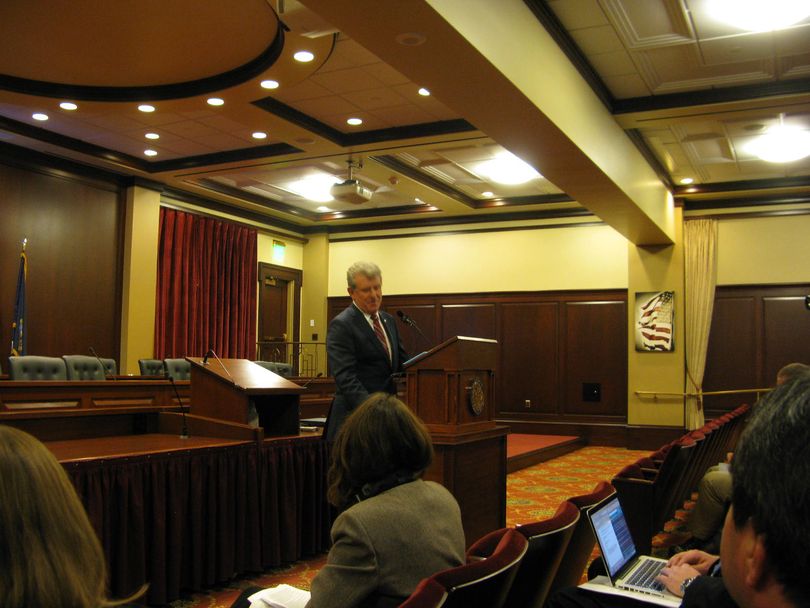 Speaking with reporters at a news conference after his State of the State address today, Gov. Butch Otter said he wants Idaho lawmakers to agree to join the streamlined sales tax project – something lawmakers have been debating but have resisted in recent years – to clear the way for sales taxes to be charged on online sales once Congress authorizes that. "It comes down to fairness," Otter declared, for the "local business here on Main Street" that pays its taxes. "It's simply fair," he said.
Otter said Idaho's already supposed to be collecting tax on Idahoans' online purchases, under current law. "That's' about $82 million bucks," he said. People are supposed to be reporting and paying it on their income tax returns as use tax, but many don't. Otter mused, "I don't know that I've ever ordered anything online," except perhaps "one of those squirt cans that can fix your rain gutters." But he said each year at tax time, "I always say to Lori, 'How much have you bought online?' I usually add a little buffer. This year I paid $600."
Asked if he thinks lawmakers will support the move when they've resisted it in past years, Otter said, "It didn't do us any good" earlier, because Congress wasn't ready to act. "I've been told by a couple of folks in the Idaho delegation that there's a real opportunity for it," Otter said.
---
---